December 19, 2015
Light the Darkness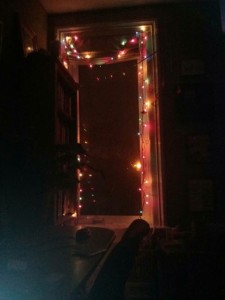 But of course, lighting the lights isn't all of it. Marsha Lederman wrote a great column in the Globe this weekend about how terrible the holiday season can be for those whose spirits are far from bright. The example she gave of someone having to linger in the grocery store deli listening to "I'll Be Home For Christmas" after having lost a loved one. Harriet's school choir sang "Have Yourself a Merry Little Christmas" in their concert this year, and while it's long been one of my least favourite Christmas songs (I'm more of a "Silver Bells" kind of gal), I kept choking on the line about, "Through the years we all will be together—if the fates allow." An ordinary wish, I suppose, though the older one gets, the more you realize how extraordinary a fortune is such a thing. It reminds me of Joan Didion writing in Blue Nights about her daughter's wedding, not long after which her daughter died. She wrote, "Do notice: We still counted happiness and health and love and luck and beautiful children as 'ordinary blessings.'"
It's been a weird few weeks. We have friends who are facing merciless illnesses at the moment. I think about the loved ones of those killed in Paris a month ago, and in the shootings that are happening in America all the time. I think of the people I know, many parents of young children, who've died in the last year or two. Friends who've recently lost their parents. Last week, a colleague of Stuart's—by all accounts a truly excellent human being—was killed in a random stabbing while out for an evening walk. There is so much inexplicable sadness, so much darkness, as, I suppose, befits this time of year.
But isn't that why we light the lights? Last Sunday on the last night of Hanukkah, our neighbours invited us over and let Harriet light their candles. I stayed upstairs battling it out with stubborn shortbread while listening to Darlene Love, but the sounds of their singing came up through the vents, and I caught the sparkle and glow of our own Christmas tree down the hall, and it all seemed to me quite sensible why we do what we do at the darkest time of year, not frivolous at all. With the winter solstice just days away, the sun down before five p.m. every day, we light candles, turn on lights, and we sing together, songs about tidings of comfort and joy.
Life is hard and the world is cruel—and yet I'm so glad I get to live in it.
I reread Rebecca Solnit's "Woolf's Darkness" again. I find myself returning to that essay, reading it over and over again, getting lost inside its twists and turns. I read it for comfort and insight, for the way it lights the darkness. For the situating of hope as somewhere between the certainties of despair and optimism. "To me, the grounds for hope are simply that we don't know what will happen next, and that the unlikely and the unimaginable transpire quite regularly." I think about the line that follows the "through the years…" one in "Have Yourself a Merry Little Christmas": hang a shining star upon the highest bough. A song I hate a little less now.
For those of us who can, we have to light up the darkness. And then find as many ways as possible to let others in on the glow.