December 16, 2015
When Santa Was a Baby
The only thing I like better than a bookshop in general is a bookshop in December, when the lines at the till are long, the floor is buzzing, and everybody's walking around with arms full of books. Lying in bed these past few weeks as December began to eke out, day by day, it was holiday bookshops I was missing. I used to do all my Christmas shopping at Book City around the corner, and feel ridiculously smug for buying so locally that the distance could be measured out in metres, and while I miss Book City all the time, I do so particularly at this time of year—this will be our second Christmas without it. So yes, I've been feeling a dearth of bookshops, so when I went to the doctor on Monday to have my lungs examined (and receive the all-clear), I made a point of skipping across the road to the nearby Indigo, to purchase gift cards as end-of-year presents for Iris's teachers, of course, but also to do some book buying.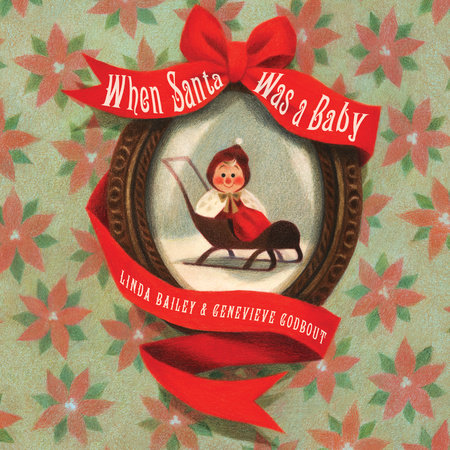 I bought two books, both of them "for my children" (ha ha) and I'll be writing about both titles, the first one being the wonderful When Santa Was a Baby, by Linda Bailey, illustrated by Genevieve Godbout. Cheerfully illustrated with a delightful vintage vibe, it's the story of a little baby who was unusual from the start:
"Look at those dimples," said his dad. "How merry!"

"And his dear little nose," said his mom. "Like a cherry!"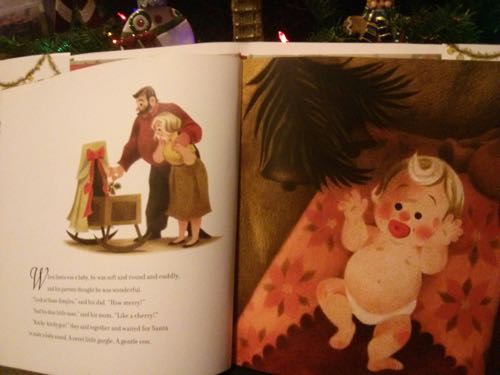 Instead of coo-ing, Baby Santa booms an enormous, "Ho, Ho, Ho!" He refuses to wear any colour but red.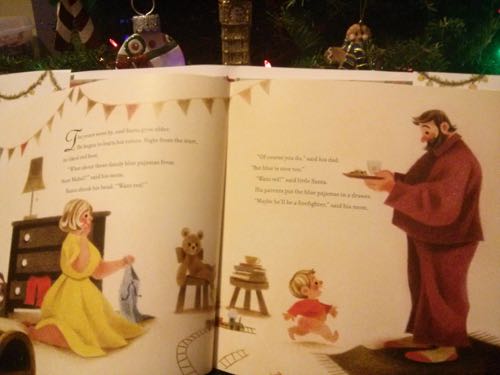 And he has a curious preoccupation with the chimney.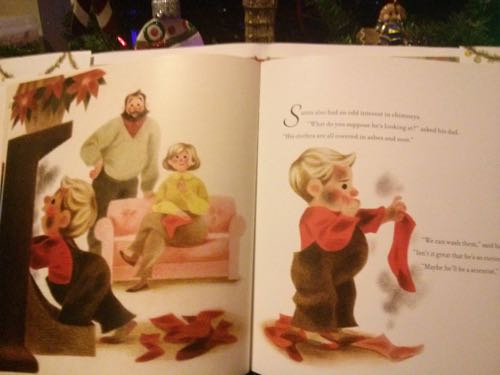 Santa's parents never waver in their pride for their unusual son, even when he insists on standing naked in front of the refrigerator for a little chill to escape the summer heat, or when he gathers all his birthday presents into a big sack and goes about distributing them to neighbourhood children. They think their boy is pretty terrific, and so creative, and curious, and they're willing to do whatever they can to make him happy.
Children will find the idea of a Baby Santa quite hilarious, with the bare bums and all, and it's wonderfully novel to recast such a familiar cultural figure as a child. But for parents, it's the unconditional, ever-elastic, infinite love of Santa's mom and dad in the story that will so resonate—and quite possible inspire.