December 9, 2015
Reading Report from the Bedridden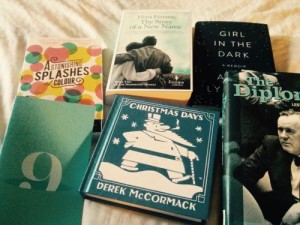 So there I was, reading The Diplomat: Lester Pearson and the Suez Crisis. A book I picked off my shelf after the Paris terror attacks last month, and as Canada stands on the cusp of returning to the international stage in terms of diplomacy. There aren't any women in it, so it wasn't completely my cup of tea, but it was relevant and really interesting. Further (and don't tell anyone I said this, but) Lester "Mike" Pearson was sort of a bit womanly himself, in that he was a pragmatist with a sense of the universal, he was good at working with others, negotiating egos and orchestrating practical outcomes. He saw the value of a middle ground, nuance; his world wasn't black and white. And I was learning so much about how decisions 90 years ago and ever since have set up the Middle East to be the bloody mess it is today. How much history matters to right now, but so few lawmakers seem to have that kind of vision (and also keep making the same mistakes over and over. Iraq in 2003, anyone?)
But then I got so so sick. The night my sickness arrived, I had a terrible fever and was staring at a photo of Anthony Eden in Ottawa in Feburary 1956 and he wasn't wearing a scarf, and I was shivering inside my own terrible chill, and thinking, "Poor Anthony Eden. He was must have been so cold." When I went to sleep, the fever continued, and I had weird, terrible Suez Crisis dreams all night.
The Diplomat is a very good book, but it's a terrible book to be reading while one is ill. Though perhaps during that first week of illness, there is existed no book that would have suited. I kept falling asleep and staring at the ceiling, and Lester was kind of like my albatross—it was far too important a book to give up on (and perhaps I would never return to it) but I wanted light and Lester wasn't it. Eventually though, as the fever abated and I persisted, I got to to the end. 340 pages of men doing men things, as my virus morphed into pneumonia, and I'm glad I didn't give up. But it was also a relief when I was finished.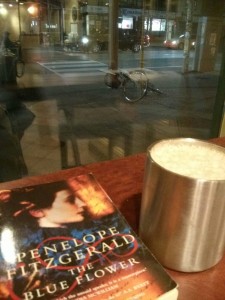 The other terrible thing about being sick, speaking in terms of literary blogging, is that I never got a chance to talk about Penelope Fitzgerald's The Blue Flower, which I was reading before The Diplomat. Penelope Fitzgerald, who I always struggle with anyway. Offshore is the book of hers I've most appreciated, and my desire to be more appreciative in general was underlined by the Hermione Lee bio. So I finally picked up The Blue Flower, which had historical fiction working against it. "You think that that you won't like it, but you will," is what everybody told me, and they were right. A fictionalization of the life of the eighteenth century German writer, Novalis, whom I've never ever heard of. So weird, but also perfectly realized. How did she do that? And, even more curiously, why? But yes, it turned out to be the most easily, immediately appreciable Penelope Fitzgerald ever. So glad I am persisting with her work. It helps, of course, that her books are short. I think a writer can make anything work if her books are short.
After The Diplomat, when I was still unwell, I spent a weekend rereading The Westing Game, by Ellen Raskin, and The Long Secret, by Louise Fitzhugh, which was perfect. Then Next to Nature, Art, by Penelope Lively, which was a bit lacklustre but also comforting and funny. And from there to The Story of a New Name, because there is no time like the pneumonic to finally get down to Elena Ferrante. And when that near-500 page epic was finished (but not an albatross), I read The Strange Library, by Haruki Murakami, whose UK edition is exquisite. So weird, but also short, and a beautiful book.
And now since I've been reading Astonishing Splashes of Colour, by Clare Morrall, which I found in a box on the street sometime last summer, I think, and I like it so much. 12 years late to the party, I know—it was nominated for the Booker Prize in 2003, a long-shot contender. But it's a really weird, absorbing, surprising and beautiful book, if it is painfully sad as well. But it's just so nice to be sick and stuck in bed, and loving a book at once. You never can tell the perfect book for the perfect time, can you?
Seasonally, I'm dipping in and out of Derek McCormack's beautiful book, Christmas Days. It's nice to have the time to do such a thing. And also enjoying my daily selection from the 2015 Short Story Advent Calendar—today's author is Rosemary Nixon, who I love so much. When I'm very excited about one of these stories, I save them all day long for the sweet joy of anticipating. And next up is Girl in the Dark, by Anna Lyndsey, which my friend Janine gave me last summer when I developed my bizarre sun allergy. (She sent it with hope that it would not be my future, but perhaps something I would appreciate.) It just seems like the right thing, someone else's trouble to outweigh my own, plus it seems readable and easy. And yes, short. Means a lot these days. Will report back as things transpire.
Anyway, the other bad thing about poor Lester is that he's become my teapot coaster, and I keep pouring tea all over his steely-resolved head.