November 19, 2015
My review of Split, by Libby Crewman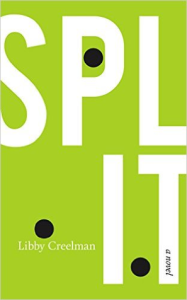 My first professional book review was of Libby Crewman's The Darren Effect in Canadian Notes & Queries in 2008. It was a good book, but a messy one, and I suspect my review probably achieved a similar effect, which sadly was not an aesthetic statement, but was just me figuring out my way. But it also meant that I was looking forward to Crewman's follow-up, Split, which was published by Goose Lane Editions in September. I read the novel twice as summer turned into fall, and it's a story that has stayed with me since, in its oddness and perplexities, its curious sideways appeal, but also in the vivid moments that Creelman so stunningly evokes.
A remarkable feature of Split, Libby Creelman's second novel (after 2008's The Darren Effect; she is also author of the acclaimed 2000 story collection, Walking in Paradise) is that it isn't split. Whereas Creelman's previous book was an impressive tangle of multiple storylines suggesting this short story writer was still finding her way into a different literary milieu, Split—for the most part taut, controlled and smartly plotted—signals Creelman's arrival proper as a novelist. This new book is an ambitious, assured and most accomplished whole.

This wholeness is doubly (ha!) impressive considering the novel's movement between two moments in time—2008 on the eve of both Barack Obama's first election victory and widespread economic meltdown, and during the hot summer of 1975, the year after Nixon's resignation and just months after the last American troops were removed from Vietnam. The former is the novel's present day, during which Pilgrim Wheeler returns to her hometown in rural Massachusetts to find her childhood world drastically changed, and must finally reconcile with a tragedy that had wrenched her family apart decades before.