November 17, 2015
The Principles of Imperfectionism, and its Inherent Contradictions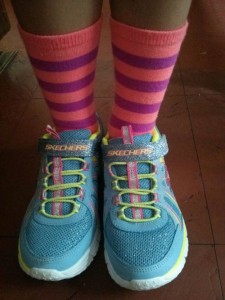 Truthfully, I have little patience with notions of perfectionism. Partly, this is because I'm so far from perfect that I'm envious of anyone who could purport to such an affliction, but also because most perfectionists aren't enacting perfection in the slightest, but rather using it as an excuse for artistic paralysis. Which I always take as kind of a slight, like those people who'd write if they only had the time—"I'd like to do what you do, but I can't because I have much higher standards for my artistic output than ordinary mortals."
In my blogging course, I encourage my students to eschew perfectionism. There is no place for perfectionists in the blogosphere. Blogs are inherently raw, wild and unpolished. The important thing is to write the best you can, get to Publish, and then onto the next post. There will be spelling errors, and sloppy grammar, and things will be formatted weird. You'll get facts wrong, and often you will change your mind. (Ideally, you should always be changing your mind—or at least entertaining the possibility. The resolute blogger will quickly learn that he is ridiculously low on material.) But no matter. For the blogger should not get hung up on these things, instead remaining forward-facing,  putting one post in front of the other, ideally getting better and better at blogging all the time. The journey the very point, you see, because the blogger never ever arrives.
I mean this literally, in one sense. A blog, like a life, is inherently a work-in-progress. Being done is being dead. But also because blogging itself is not a path that leads to somewhere. Although it can be—we all know the examples of bloggers who've quit their day jobs and now live off the fruit of their blogging labours (although that's a path with its own curious trajectories). Certainly blogging has delivered me tremendous rewards, not least of which are (recently) lupine seeds and other surprise parcels in the post from kind readers. And also contacts and experience that have led to professional gigs, and it's true that I have blogging 100% to thank for your pretty solid writing career at the moment. But note this: my blog worked as a tool (a path to somewhere) because I wasn't deliberately trying to make it so. I was blogging for blogging's sake, rather than to write my way to somewhere better, and that I actually managed to get anywhere at all is kind of incidental. It's the blog that I keep returning to anyway. Warts and all. It will never be perfect, and I will never be done.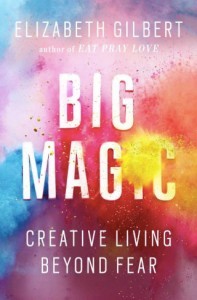 I'm comfortable with all this, so much so that I'm so looking forward to speaking on a panel about mistakes on Sunday at Draft 11.1. But then yesterday, while walking down the street, I had a devastating revelation. Which involves Rohan Maitzen's review of Elizabeth Gilbert's book, Big Magic. Now, keep in mind that I'm Elizabeth Gilbert-agnostic. I've never read a single thing she wrote, but I AM an avid Rohan Maitzen fan. And I loved her smart and thoughtful review of Gilbert's book on creativity. She's clear about the book's strengths ("Gilbert's advice to just get on with it, without excuses or apologies, is rousing"), its wackiness (the part where Ann Patchett steals her book idea by osmosis?), and, yes, its unrelenting banality. But the big problem Maitzen stumbles upon is Elizabeth Gilbert on the topic of perfectionism, which, she says, is just a manifestation of fear:
 "Done is better than good," [Gilbert] proclaims; "you may want your work to be perfect …. I just want mine to be finished." Don't bother interrupting what she proudly calls "the Song of the Disciplined Half-Ass" with cavils about aspiring to excellence: it turns out that along with the all-purpose permission slip she offers us comes an injunction against judgment or evaluation. And that's where, for me, Gilbert loses her magic.
And this is what stopped me, as I was walking down the street. Because I too am a disciplined half-ass, although I haven't written an actual song about it yet (and once I get around to it, the song will probably be a bit crap. And I won't care). So am I basically Elizabeth Gilbert after all, but just not rich or successful, or generating Ann Patchett novel ideas? And the reason why this matters is because the very best part of Maitzen's really excellent review is when she recalls recently reviewing Gilbert's novel, The Signature of All Things. The novel that, Gilbert writes in Big Magic, is decidedly imperfect (including, in her words, "an unfortunately underdeveloped character") but which she decided was "good enough." The novel that Maitzen sat down, read, and spent an inordinate amount of time thinking about in order to write her review (which was, shall we say, mixed). Maitzen writes:
I suppose on balance, then, mine was one of the "bad reviews," but I certainly didn't toss off my opinions lightly before moving on. I assumed Gilbert had put everything she had into her novel and that it was my responsibility to take her writing seriously in return—to read and think as hard as I was capable of, and then to be scrupulous in reporting my conclusions. It never occurred to me to approach The Signature of All Things as a novel that wasn't intended to be anything more than "good enough." I'm not sure I know how—or even whether—to review work by a self-proclaimed "half-ass" … but here I am, doing it again.
Here is the flaw in that great liberator, imperfectionism, then: because do you know how many hours it takes to read a book? Moreover, do you know the value of a dollar, or twenty, or thirty of them? And so how dare to any of us expect a reader to make that investment if the work that you've produced is not the very best it could be. (This is my big complaint about self-published books too. The number of self-pub'd books I've read that aren't conspicuously imperfect is less than a handful. This is even more the case with e-books, which can be put into the world so rapidly. It drives me crazy when I hear about authors rewriting/editing versions of their books after I've actually bought them and read them—could I have my time and my money back please?)
So here I've come full circle. And spent the hours since my revelation in the street trying to reconcile my philosophy of imperfectionism with my aversion to bad books. And my conclusion this: eschewing perfectionism is about getting out the draft. And it makes sense in blogging, because a blog is only ever just a draft—certainly, if you're going back over your posts and ever polishing and changing, what you're doing isn't really blogging (which is raw and wild, remember?). Or sustainable. And this is why blogging is useful for a writer, because it's practicing the habit of putting your ideas into words, one word after another, which is the same way you write a draft of a novel after all. A draft that is rarely going to be wonderful (although who hasn't dreamed of the editor snapping up your first draft, saying, "There! You're a genius. This is done." So easy!). The draft is your chance to go wild, trip up, make a mess, and experiment. To see what happens next.
And after that is where the work comes in. Where the perfectionist's tendencies come to be advantageous, and the best part is that no one even expects you to do it all on your own. When you get back to your manuscript, and—with the help of a few good editors—make it the most perfect book it can be. Which you're always going to fail at, but you're a blogger, well-versed at and most comfortable with imperfection anyway.