November 15, 2015
Heyday, by Marnie Woodrow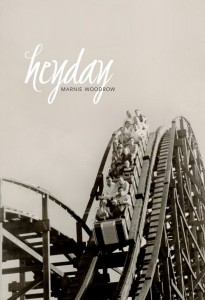 "It had something to do with Mary Pickford. With beauty. With the Figure 8 ride on a hot June day at just the right moment in time."
Heyday is the first novel by Marnie Woodrow since the acclaimed Spelling Mississippi more than a decade ago. It's a book that artfully weaves two stories, one in the present day as Joss mourns the loss of her longtime partner, Bianca, to whom she was never fully committed, and the other about two young women, Bette and Freddy, who meet one day on a roller coaster in 1909. And what connects these stories both is the Toronto Islands, peaceful Ward's Island where Joss lives alone now but in her grief feels smothered by the attentions of the close-knit island community, and Hanlan's Point on the other side, which in 1909 was a bustling amusement park, called "Canada's Coney Island," and where Freddy and Bette encounter each other for the very first time.
Bette is a single-rider, unnerved by the boy who takes the seat beside her as the roller coaster ride begins, and then intrigued as he whips off his hat to reveal a shock of blonde hair—the boy's a girl after all. And a friendship begins between them, cultivated over a mutual love of swoops and turns, twists and plummets. Although the girls are worlds apart otherwise. Bette is the daughter of upper-class parents, her father an ardent spiritualist, her mother busy with campaigning for woman's suffrage, and both parents too involved in their own affairs to pay sufficient attention to their youngest daughter who is mourning the recent loss of her beloved grandmother. Their lack of attention means that she's able to escape from the confines of home during that summer, however, and make her way across the harbour to Hanlans, where she spends her time becoming utterly bewitched by the charismatic Freddy who works as a ticket-taker in the movie theatre. Although Freddy has secrets of her own, running from a dangerous past that is never far behind her. And as affection between the two girls grows—as they make plans for a future together, daring to consider running away together to New York City, to the actual Coney Island—it becomes clear to Freddy that their relationship might be putting Bette's life in peril. But does she dare risk it? Or must she sacrifice their friendship to ensure her friend does not become snarled up in her own torrid past?
The novel's historical detail is evocatively realized, and uncompromising in its sense of immediacy and richness of atmosphere. The sections of Heyday (from the respective perspectives of Bette, Freddy, and Joss) flow together naturally, the past and present timeline subtly connecting with small details. Though how the two sections relate beyond geography is not clear until the novel's end when it becomes clear that one story might just be a figment of the other. But the spell Woodrow casts is so magnificently done that it doesn't occur to the reader even to mind this.