November 13, 2015
The TD Grade One Giveaway!
On Monday, Harriet pulled Mr. Zinger's Hat, the 2015 TD Grade One Giveaway, out of her backpack. And I was confused. "How did you get that?" I asked her. A few seconds of discombobulation before the obvious point dawned on me: that Harriet is in grade one, receiving the book with other six-year-olds across the country. Literally, I'd been waiting years for this.
They didn't have the TD Grade One Giveaway when I was grade one, but I learned about the program first when I started working for 49thShelf.com, and was invited to an event promoting the campaign. This was in 2011, when the giveaway pick was Gifts, by Jo-Ellen Bogart and Barbara Reid. (I wrote about it here.) And in the years since, I've been kept in the loop, receiving copies of the books at the TD Children's Literature Awards (which is the one gala per year I get invited to…)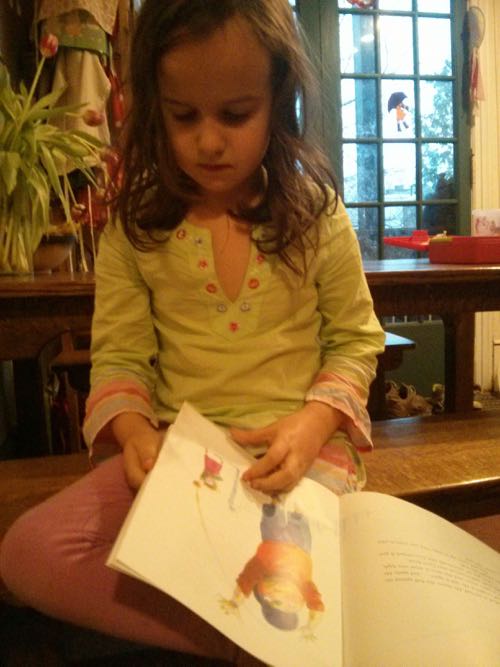 In a house like ours, the arrival of a brand new book is not such a momentous occasion…or so I thought. But Harriet bringing home a book that was hers alone, so much hers that she'd already written her name in the space allotted on the inside cover, turned out to be really, really exciting. And I can't imagine what it might mean to a kid who doesn't have access to all the books that Harriet does, to have a book that's all their own. Although I can imagine what it's like for any family to have the pleasure of a brand new book to read together—it's one of the best things ever. I also appreciate how notes at the back of the book include a listing of every single award-winning Canadian book from the previous year, which is whole words to explore the next time that family visits the library, and another excellent example of one book leading to another.
Yesterday it was reported in the Toronto Star that students in York Region won't be receiving Mr. Zinger's Hat due to rules against corporate sponsorship in schools. And while such a stance is admirable, and while I do wonder why the banks have so much money that nothing seems to happen without them, I know that TD has a long, established and admirable record of supporting early literacy. In addition to the Grade One Giveaway, they sponsor initiatives including summer reading programs at libraries throughout the country, TD Children's Book Week (which sends authors to school across Canada every spring), and the nation's biggest children's lit prize. (Also, the Marilyn Baillie Picture Book Prize is named for Marilyn Baillie, Canadian children's author and wife of former TD Chairman A. Charles Baillie—just another connection).
Upon reflection, it occurs to me that the preceding paragraph is the most corporate shilly collection of sentences I've ever written. Do I need to point out then that I've not received compensation for it from TD or anyone (though if they'd like to send me funds, I'd be willing to entertain all possibilities)? But I suppose it's just I really believe in a program like this, one that makes great books available to everyone. And I love the idea of kids across the country united by the power of a story.