November 13, 2015
A very good day?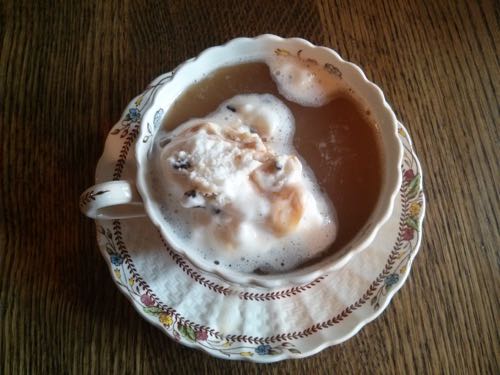 This morning not long after 6:00, Harriet woke up coughing. Waking up her parents in the process, and as I adjusted to consciousness (and her much more morning-person father went downstairs to get her a glass of water), two thoughts occurred to me: 1) there was nobody left in my bed. Not a single person. Not a single person who is small and insists on sleeping whilst burrowing into my body, thrusting her little hands down my shirt, and kicking me in the abdomen, and lately has been joining me nightly around 2 or 3 am. And 2) I had had enough sleep. As in, I could open my eyes and sit up, get out of bed, open the curtains and begin my day, coherent sentences and all. I feel like this perhaps once a month, if I'm lucky. (See previous note about resident kicker in my bed.) It was extraordinary. My first premonition that this was going to be a very very good day.
It also meant we had two hours before we had to leave for school, instead of the usually scramble. (Most days, I am lucky to drag my sorry self out of bed by 7:45, and my husband does everything—breakfast making, bag-packing, children-dressing/brushing/etc. He is our resident Hero.) And because I make a point of being useful in wholly impractical ways, I decided that I would make us french toast for breakfast. It was to be sweet potato french toast from How to Feed a Family, but we were low on sweet-p's, so I used acorn squash instead. And it was delicious. And then Stuart proceeded to do everything as usual while I sat at the table drinking tea and browsing twitter until it was 8:15, leaving me a quarter of an hour to shower and dress. We were out the door before the 8:30 news turned to sports, and ages before The Current started (which is always how we know we're late).
Today was a PA Day so there was to be no grade 1, but I had a co-op shift at Iris's playschool, and Harriet was coming with us. Along with a group of other children who partake in the playschool's after-school program normally but needed full-day care today. So that the classroom was packed with kids of all ages, playing together and have such a good time, and it never got too crazy. It was a lot of fun having Harriet there, and it was a distinctly unboring co-op shift in which time flew by. And then home to leftover pizza for lunch, and I got dinner in the oven already (a chicken, leek and sweet potato casserole). Which means that we'll be eating early, dinner finished before our super-babysitter arrives at 6pm (which is to be a new bi-weekly arrangement—early Friday night dates so that Stuart and I can go out together often but STILL go to bed early, which is best of both worlds). And we're going to see Mavis! at the Bloor Cinema around the corner—getting home in time to catch an episode of Raised by Wolves before bed.
So it's looking good. Just past the day's midpoint, it's still too early to say whether this qualifies as a very good day proper, but from where I'm standing now, the outlook seems pretty bright. Friday the 13th has a habit of working out for me—it was on another one, 12 years and eleven months ago exactly, in fact, that I met my excellent husband, after all.
Update: I had the feeling as I published this post that I was tempting fate, that I was sure to be struck and killed by a westbound bus sometime just before dinner. But the trouble turned out to be farther away and so much worse—not a very good day on the whole, for sure. Which made me thinking about a post like mine and about the point of blogging in general, and while surely my acorn-squash french toast doesn't matter in the grand scheme of things, the darkest parts of the world are all the more reason to celebrate the those small and perfect moments of light. Thinking about Solnit and Woolf's darkness as well: "To me, the grounds for hope are simply that we don't know what will happen next…"