October 28, 2015
Another Margaret, by Janice MacDonald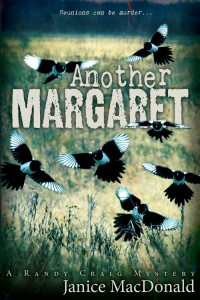 I really loved this piece about campus novels and academic mysteries that Janice MacDonald wrote for 49thShelf back in September—referencing Dorothy Sayers' Gaudy Night, of course. So I've been looking forward to her latest novel, Another Margaret, her sixth book in the Randy Craig series set in Edmonton, Alberta. Which is also the first book in the series, a reworked version of an out-of-print 1993 book called The Next Margaret, MacDonald's first to feature Miranda Craig, a hapless perennial academic  with a penchant for sleuthing.
On the occasion of her 20th reunion—grad school at the University of Alberta, and her pal Denise has roped her into being part of the organizational committee—Randy's mind drifts back to her MA studies and her fraught relationship with her thesis advisor. She'd gone back to school as a mature student to study up-and-coming but little known Canadian novelist Margaret Ahlers—yes, another Margaret, along with Laurence and Atwood—on whom her advisor, Dr. Hilary Quinn, had written critical works. But Dr. Quinn turns out to be oddly unforthcoming on the subject of Ahlers, and it is not long after announced that Ahlers herself has died. And whatever her connection to Dr. Quinn, it now seems complicated in a way that Randy is determined to get to the bottom of.
But the course of an academic detective story never did run smooth, and suddenly somebody else is dead—was it murder?—and Randy has got her fingers on a floppy disk that seems to contain a another novel by Ahlers. But the novel turns out to be a detective novel. A "brilliantly subversive detective novel," but still: had Canada's Great Literary Hope upped and gone genre? And if she was murdered, was that why?
"All that territory staked on the next Margaret Laurence, or Margaret Atwood, and she turns out to be the next Margaret Millar!"
MacDonald does a terrific job capturing the seasons of the academic year: the heightened expectations of autumn, and then come April, everybody is crying. The send-up of academia is fun and smart, and also important in what Randy's work as a sessional instructor has to tell us about the precarious nature of academic work at the moment. I also enjoyed the novel's glimpses into Canadian literary culture, including a funny bit when Randy starts a fake book blog to get an advanced copy of yet another new Ahlers novel that comes out right before the reunion—a novel that Randy knows could not have possibly been written by Ahlers herself.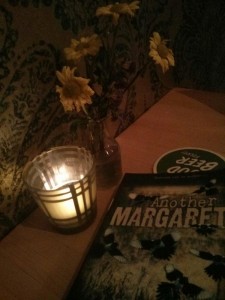 The prose style was clunky in places, and some of the leaps of logic (both taken by Randy and required by her reader) were a bit absurd, and then once there's the stabbing with the plastic picnic knife—well? Well, that's how you know that the whole project is done in the spirit of fun, not taking itself too seriously, but executed well enough that admirers of academic mysteries can come along for the ride. And I really glad I did. Another Margaret was a lot of fun, and a great introduction to the Randy Craig series. I've been been feeling unwell this week and the weather has been autumnal in the not-so-golden sense, and so this has been the perfect kind of story to curl up in.