September 10, 2015
Daisy Saves the Day, by Shirley Hughes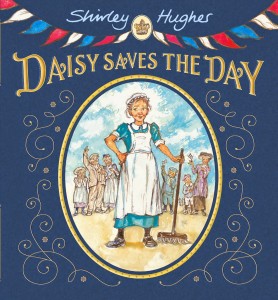 British institutions collide in today's Picture Book Friday pick, in which the great Shirley Hughes pens a picture book right out of Downton Abbey with bunting as a major plot point. I know.
The book is Daisy Saves the Day, about a young girl who has to leave school and take a job as a scullery maid in a grand house in London in order to earn money to help care for her younger siblings. Which was not such a remarkable path for a young girl of her class, but Daisy herself is quite remarkable, bright and clever, hardworking at school. She's also not particularly good at, well, scullery-ing. Her employers' modern and unconventional niece, who is visiting from America, wrangles her permission to browse the house's extensive library however, which makes Daisy's life a little less lonely.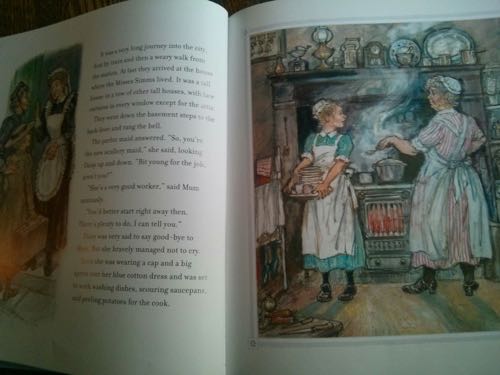 The story takes place during the summer of 1901 when George V was crowned, and the streets of London were decked in Union Jacks, flags and streamers. (The text doesn't explicitly say "bunting," but them there triangles are not just any flags, are they….) Except that Daisy's house remains plain and unadorned—her employers, The Misses Simms, considered the decorations vulgar. And Daisy, naturally, is disappointed to not be part of the fun.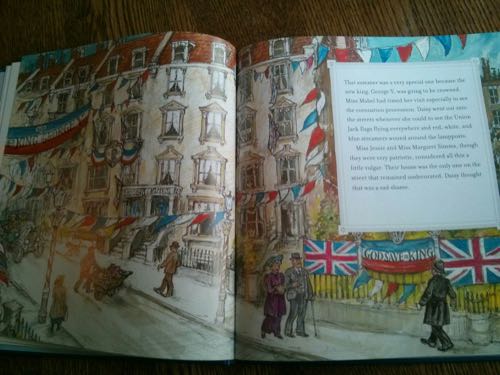 Ever-enterprising, however, she devises a cheeky way to join in, fashioning a string of bunting out of dishcloths and pillowcases and BRIGHT RED BLOOMERS, no less.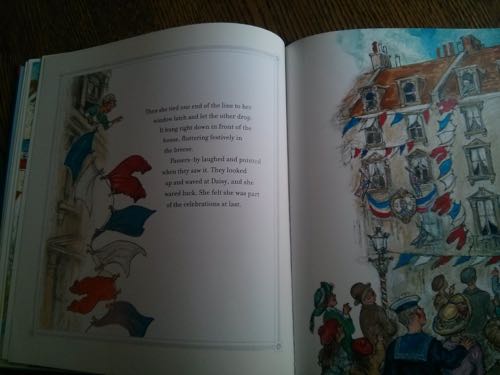 Which, of course, gets her in hot water with the Misses Simms, and poor Daisy is landed in disgrace. She's given so many extra chores that by the end of the day, she's too tired to even read. But never fear, there will BE redemption. When one night Cook hangs dishcloths a bit too close to the fire and then nods off, it is Daisy who smells the smoke and rushes to the kitchen to help put the fire out, saving the day, as per the title.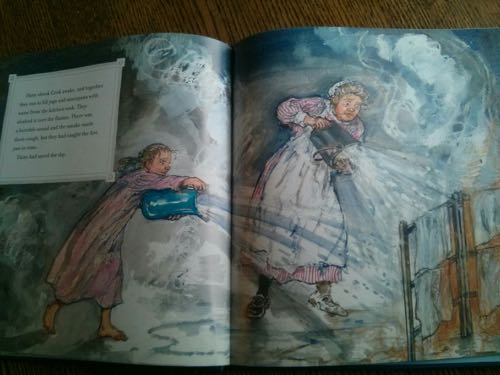 The Misses Simms are so impressed with their young charge that they bestow on her the ultimate gift: they free her from service and offer to pay for her schooling. Because "…it seems to me that you are better at reading than at polishing and scrubbing." Indeed. And then a happy ending, because Daisy gets to go home to her mother and her brothers. A cheerful end to a cheerful tale, gorgeously rendered in classic Shirley Hughes style, and with endpapers decorated with vintage advertisements for household cleaning products.
We loved this one!
Check out the Daisy Saves the Day website, with more information about the book and activities too.