September 9, 2015
Light Years, by Caroline Woodward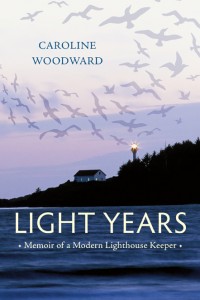 Caroline Woodward is author of Singing Away the Dark, which is one of my favourite picture books of all time, a book in rhyming couplets with just a few hundred words that has actually given me great strength more than once at times when I needed it. It's based on Woodward's own rural childhood: "When I was six, and went to school, I walked a long, long way…" and recounts her journey in the dark through the woods to meet her school bus each day, facing down fears, shadows, and actual cows. And so her latest book, Light Years: Memoirs of a Modern Lighthouse Keeper, is not such a departure, another book about lighting the darkness, being audacious and daring, and about the deep and complex relationship a person can have with place.
From the back of the book: The very TRUE STORY of a WRITER who always chose ADVENTURE over security, LOVE over logic, and who (naturally) quit her best job ever to go off with her equally peripatetic  husband to LIVE at a LIGHTHOUSE and WRITE all the stories she always wanted to write, including THIS ONE.
(I don't usually include descriptions from the back of books, but I particularly love that one.)
Woodward's memoir is as meandering as her life has been, and I mean that in the best way. I mean that instead of a straightforward narrative about days in and days out as a lighthouse keeper (days that begin at 4am for the first weather report), we're permitted to a broader story about how she and her husband came to live "on the lights" (after previous careers as booksellers and Woodward's time spent working as a publishing sales rep up and down Vancouver Island, and throughout all of this wanting to make space for writing in her life), her own childhood spent homesteading in Northern British Columbia, in-depth lessons on meteorological geekery, about baking in a lighthouse kitchen (with enough cookies to feed the Coast Guard at Christmas), about how not to be decapitated by a helicopter propeller-blade, and gardening in challenging climates, and how lighthouse keepers cast their votes (Elections Canada officials arrive by helicopter!). It's also a fervent defence of manned lighthouses, which are always under threat of budget cuts, and the role the lighthouse keepers play in keeping boaters safe, rescuing lost hikers, monitoring weather conditions and documenting the composition of sea-water for scientific data.
Somewhat incongruously, this book about remote and lonely places is not about loneliness at all, but about one finally finding her place in the world after decades of searching. And it's a love story, Woodward and her husband's devotion to each other a constant throughout and one of the chief delights of the memoir. They both work as relief lighthouse keepers, this involving separation for weeks or months at a time, and they find ways to stay connected through these periods. When they're home, however, they live together at the Lennard Island Lightstation on the West coast of Vancouver Island, and Woodward knows she is privileged to live this remarkable life.
At the end of the book, she writes, "Remember this, memorize the pitch and rise and fall of these sounds because you will not hear them once you are far away from this life, this wonderful, amazing adventure." And the reader is lucky to be journeying alongside for awhile.