August 17, 2015
A Really Good Brown Girl, by Marilyn Dumont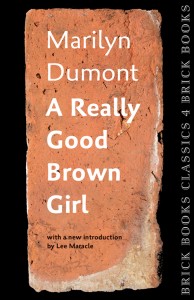 I hadn't budgeted for books at The Stop Farmers' Market at Artscape Wychwood Barns a few weeks back, but it turned out that Pedlar Press and Brick Books were vendors (and I met Kate Cayley, whose How You Were Born I loved so much!) so I couldn't help but pick up something. And I am so glad that the something I got turned out to be the deluxe redesign of Marilyn Dumont's Gerald Lampert-winning debut collection, A Really Good Brown Girl. A book I read in days, which is rare for me and poetry, but I was captivated by the narrative, the language, the brute force of these poems, as well as their sense of humour, their cheek. "Squaw Poems," about growing up Metis on the prairies, a household surrounded by "The White Judges" who waited to pounce. And never really went away. But then—
"I am in a university classroom, an English professor corrects my spoken/ English in front of the class. I say, "really good." He say, "You mean/ really well, don't you?" I glare at him and say emphatically, "No I/ mean really good."
This line giving the book its title, a double as so many of the poems show the Metis girl who hears, "You are not good enough, not good enough, obviously not good enough/ The chorus is never loud or conspicuous,/ just there." And also connecting Dumont not just to her literal foremothers (the women raising Blue Ribbon children with the White Judges looming ) but her literary foremothers too—in her Afterword she writes of the African-American women writers who inspired her, and other Indigenous writers from all around the world. She writes of another really good brown girl in "Helen Betty Osborne":
Betty, if I set out to write this poem about you/ it might turn out instead/to be about me.
Another poem, "Letter to Sir John A. MacDonald":
Dear John: I'm still here and halfbreed,/ after all these years/ you're dead, funny thing… / because you know as well as I/ that we were railroaded/ by some steel tracks that didn't last/ and some settlers who would settle/ and it's funny we're still here and callin' ourselves halfbreed.
The poems are their own context, but in this new edition they are complemented by Dumont's Afterword, as well as with an introduction by Lee Maracle:
"No other book so exonerates us, elevates us and at the same time indicts Canada in language so eloquent it almost hurts to hear it."
I'm so glad I finally read it.