July 16, 2015
Up in the Garden and Down in the Dirt
We went to Parentbooks today to buy a birthday present for Harriet's friend, and their gorgeous summer books table drew me right in. We ended up buying Up in the Garden and Down in the Dirt, by Kate Messner and Christopher Silas Neal, because it seemed a wonderful companion to Weeds Find a Way, because the illustrations are gorgeous, and because it was so perfectly in tune with our familial zeitgeist of late, which is all butterflies (which Iris calls "fuff-eyes"), watering cans, weeding, and getting up to our elbows in soil.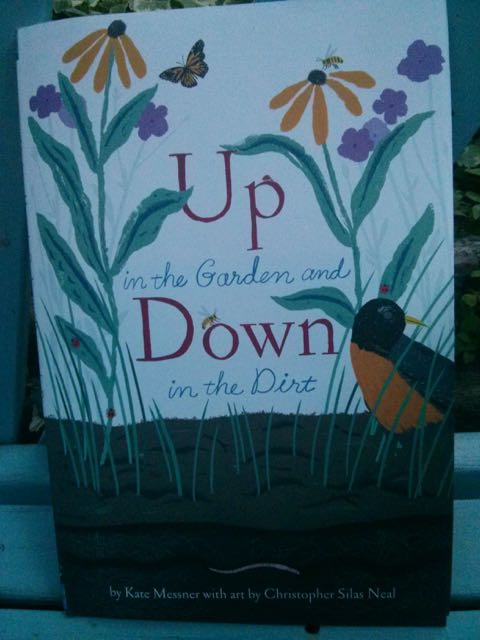 The story begins in the springtime, the earth just waking up and the crocuses poking through. Neal's illustrations show that it's not just up in the garden where the action is happening, but that underground a whole world exists that helps the plants to flourish.
My favourite thing about the book is how the illustrations convey the momentum of the summer garden, which is never the same two days, one plant replacing another. From crocuses, to forsythia, to magnolias, to lilacs, to irises, to linden blossoms, and onto cosmos. It's like time, spilling over, uncontainable. The kind of thing I never noticed before I started paying attention.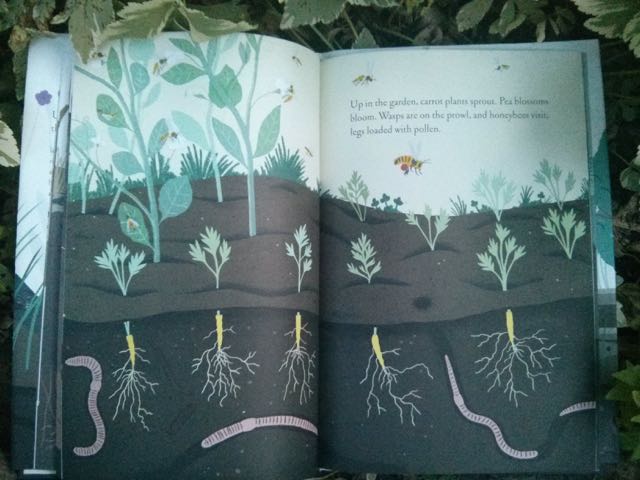 Messner shows the garden as a place of fun and play as well as labour, her young protagonist cooling off from the summer heat by being sprayed by her Nana's garden hose. While, "Down in the dirt, water soaks deep. Roots drink it in, and a long legged spider stilt-walks over the streams."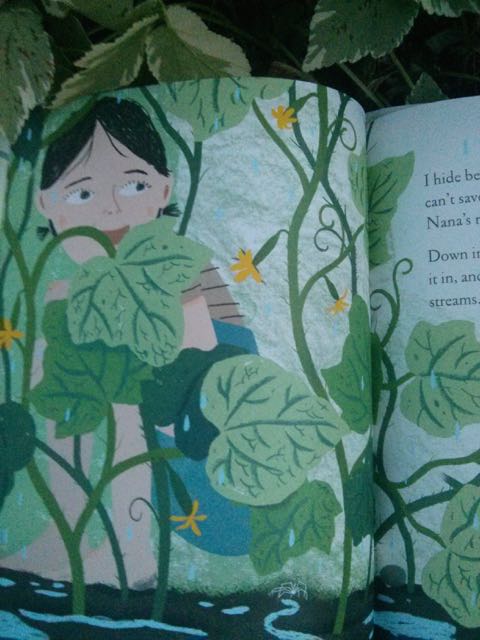 The silhouettes at the end are particularly striking, showing that the nocturnal world—bats!—has its own role to play in helping with the garden. On the next page, there is even a skunk, an animal which—according to the book's fascinating glossary—is actually a garden helper. Who knew? "Like bats, skunks are nighttime predators that gobble garden pests after dark. Skunks love grubs and slugs." Ants too—I had no idea. They help to pollinate plants and air the soil with their tunnelling. Harriet and I were both gripped by these facts. It is nice to find a book that can teach new things to two readers who are thirty years apart.
By the end of the book, it is fall, harvest time. Much of the action is taking place underground again, as the pumpkins are nearly ready and the cold is near. And in winter, the story tells us, "a whole new garden sleeps down in the dirt," the tunnels and nests and animals and insects underground drawn to resemble flowers and vines in an abstract sense—pictorial subtext. It's wonderful.
Wonderful too the way that the book makes the connection between gardens and books and reading so clear.