July 15, 2015
For Better or for Worse: The Comic Art of Lynn Johnston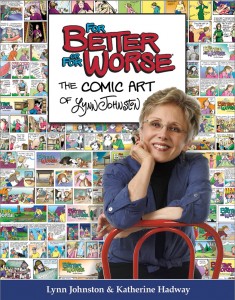 It's a familiar story: an isolated mother begins sharing stories of her family life, expressing her frustrations with domestic life and the challenges of motherhood. Building a platform out of adversity—she'd been a single mom for a while, had a fraught relationship with her own mother. Largely self-taught, not necessarily ambitious. Hard-working, yes, but credits her success to doors opening by happenstance. Her platform growing to huge audiences, but she's still not properly respected. She's telling stories about kids and laundry, after all. But she keeps on telling those stories for nearly three decades, her success bringing with it fame but also certain challenges: what are the ethics of writing about one's children, one's family? When you've made a career out of telling their stories but their lives are becoming separate from yours, what kids of stories do you tell instead? And how to deal with trolls, online critics out for attack who seem to forget that you're actually a human being?
It's a career trajectory not so far removed from that of many popular bloggers, although Lynn Johnston's began in the 1970s and her "platform" was the comic, "For Better or For Worse", syndicated daily in newspapers across North America. And when I saw recently that she'd listed a book Erma Bombeck as one of her most influential reads, the whole thing made sense to me. That Johnston, like Bombeck, was one of blogging's foremothers, and in particular with the immediacy of her strip, domestic life unfolding in real time.
Lynn Johnston's life and career are outlined in the new book, For Better or For Worse: The Comic Art of Lynn Johnston,  a book released to coincide with a retrospective of Johnston's work on exhibit now at the Art Gallery of Sudbury until November. The book includes full colour and black and white comics from the course of Johnston's career, as well as examples of her early work, a discussion of her influences, and notes of the creative work she's been up to since her strip ended in 2008. It's fascinating reading, a behind-the-scenes look at her work that's still so familiar to me—the Pattersons, their friends and neighbours. Which, like the best blogs, is not ephemeral at all.