July 14, 2015
Nature is as careless as it is bountiful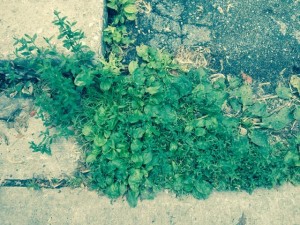 "For nightmare, you eat wild carrot, which is Queen Anne's lace, or you chew the black stamens of the male peony. But it was too late for prevention, and there is no cure. What root or seed will erase that scene from my mind? Fool, I thought; child, you child, you ignorant, innocent fool. What did you expect to see—angels? For it was understood in the dream that the bed full of fish was my own fault, that if I had turned away from the mating moths the hatching of their eggs wouldn't have happened, or at least would have happened in secret, elsewhere. I brought it upon my self, this slither, this swarm.
I don't know what it is about fecundity that so appalls. I supposed it is the teeming evidence that birth and growth, which we value, are ubiquitous and blind, that life itself is so astonishingly cheap, that nature is as careless as it is bountiful…" –Annie Dillard, Pilgrim at Tinker Creek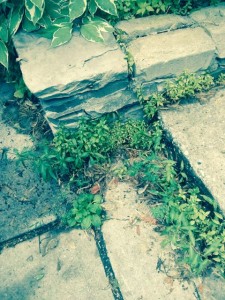 Although Dillard concedes that fecundity is not quite so appalling with plants. She goes on to report, with amazement, a fifteen-foot-long tree growing from the corner of a garage roof, "rooted in and living on 'dust and cinders.'" I had forgotten about her relative comfort with, her admiration for exploding botanicals, because it's around this time of the summer every when I spy life coming up through the cracks in the sidewalk that I think about her comment on the appallingness of fecundity—something awful in both senses of the word. When summer throws off its harness, asserting the wild. We are no tamers of it, any of us, and concrete is only incidental. The whole world is bursting with green.
Though I am not sure there is anything careless about it. I have never encountered a force more determined.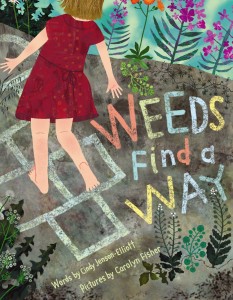 So it seemed like as good a time as any to get Weeds Find a Way out of the library, a book I recall hearing about last year when it came out but hadn't read yet. The writer, Cindy Jensen-Elliott as full of wonder and amazement as Dillard is when it comes to the tenacity of weeds, their adaptive knack. Carolyn Fisher's illustrations are beautiful, the book's unique design bringing text and images together in a playful, gorgeous and illuminating experience. A glossary at the end of the book highlighting a number of common weeds, weeds so common as to be obscure if (to steal a line from poet Mary Ruefle via Heidi Julavits in The Folded Clock) "we can extend the meaning of obscure to be mean covered up by dailiness." And who doesn't love a book with a glossary?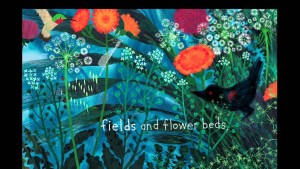 "Wild carrot (Daucus carota) is also known as Queen Anne's lace. It is said to have gotten its nickname when Queen Anne of England visited Denmark and challenged the ladies there to create lace as fine as the flower of the wild carrot." 
Which you can also eat for nightmare, apparently. Who knew?