July 5, 2015
I Take You, by Eliza Kennedy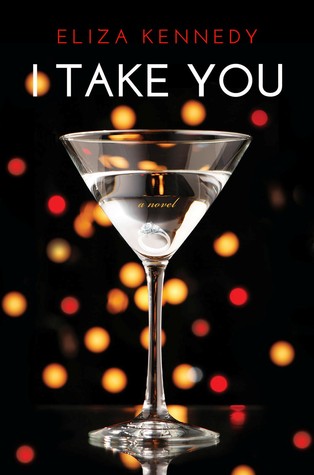 A few years ago, I wrote a blog post about the trouble with comic heroines, their forever blunders, self-deprecation and "one-downmanship", and about how female characters are not often permitted access to what novelist Kate Christensen refers "an august tradition of hard-drinking, self-destructive, hilarious anti-heroes" ala Kingsley Amis's Lucky Jim. Christensen was talking here about the protagonist of her first novel, In the Drink, a character who ended up being pegged as a not-quite-Bridget-Jones (without the sweetness)—it was the late '90s after all. But nearly 20 years later, readers still don't quite know what to do with a female counterpart to a character like Amis's Lucky Jim—a character who messes up, isn't necessarily loveable, and who doesn't care if you don't like it. A character like Lily Wilder, the hard-drinking, crazy-for-sex heroine of Eliza Kennedy's debut novel, I Take You.
But I loved her. I did. Within the first few pages it is clear that Lily drinks too much, swears religiously, and has no compunction about casual sex as long as the sex is excellent, and it was all so refreshing. That she was a bit silly, but not stupid. That she was empowered, interesting, and nobody's victim. Which is not to say that she hasn't herself in quite a pickle as the novel begins: Lily is engaged to Mr. Wonderful—it's been a whirlwind—and she's pretty sure she even loves him, but she still can't kick her habit of picking up men in bars and in elevators, and, well, everywhere. Lily wants to marry Will, because he's a smart choice and Lily is wise enough to be in the habit of making these. But she doesn't seem ready to become domesticated—and now the wedding is just days away.
The thing about Lily Wilder is that she's happy. In fact, she insists upon her happiness, her value, which is rare with comic heroines. She is not a problem to be solved, and she doesn't want to be fixed. She just wants to have it both ways—but how?
The story is set in Key West, Lily's hometown, where she runs into a childhood friend with whom she has a complicated past. Her father, a dashing Lothario, is in town for the wedding, and so are all his ex-wives, plus Lily's friends, and Will's too—she accidentally sleeps with one of the groomsmen. So things aren't at all straightforward even beyond the state of the forthcoming union, plus Lily has to do some work while she's on her vacation, coaching a client for an upcoming deposition—her law firm is defending an oil company whose drilling explosion has caused massive devastation throughout the Gulf.
Madcap shenanigans ensue, with lots of smart writing, funny dialogue, and plenty of explicit sex—the prose is as shy as Lily is. The novel suffers from two problems, which seem somewhat incongruous—the first is that the political ramifications of the plots are heavily underlined in expository dialogue. I get that this is a huge revolution, a heroine who loves sex and is unabashed about it, that there is a massive double standard at work in which men get to be awesome for sleeping around but women get to be sluts. Though perhaps these underlinings would be helpful to a reader who is a little less unaware than I am. My second criticism is that the ending was a bit too neat, though the neatness was satisfying, but my eyebrows were just a little but raised.
But never mind, because I devoured this book in 24 hours, stayed up late reading, enjoyed myself immensely, and laughed out loud more than once. It's a book that promised to be funny, and it really really was (although funny is subjective—Goodreads reviewers seem to disagree with me on this point, although it's possible that they're all idiots). It's a book that surprised me, didn't underestimate my intelligence, and dared to be different from almost every book I've ever read. A book that underlines also that women are complex, interesting people, and their comic heroines deserve to be just the same. And this one is.
I Take You is fantastic.