June 28, 2015
How You Were Born by Kate Cayley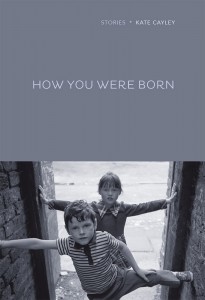 When I was away last weekend, Kate Cayley's story collection, How You Were Born, was an ideal literary companion. Slimish, perfectly packaged, each story its own realized vision. Its effect more muted and subtle than Rhonda Douglas's Welcome to the Circus, another short story collection I've loved lately, but still—so very good. Which is important when one is away from home and hoping for reading as excellent as one's surroundings—the kind of thing you mustn't get wrong. When our mini-break was over, I could underline its success by the fact that I'd managed to nearly get a whole book read, and I am glad that it was this one.
Kate Cayley is a playwright, poet, prize-winning YA author, and now, with How You Were Born, recipient of the Trillium Book Award. The day the book took the prize, I received my copy in the mail from All Lit Up, which technically means that I liked this book before it was so extraordinary lauded (and therefore am cool and a tastemaker), but one might have expected as much from Cayley. Though it's worth noting that How You Were Born beat out novels by Margaret Atwood and Thomas King for the prize. Perhaps they should put that on a sticker and slap it on the cover.
It has been interesting to read these stories, many of which are about Queer family life, sandwiched between Maggie Nelson's The Argonauts and Ann-Marie MacDonald's Adult Onset, which tell of the same. In Cayley's first story, "Resemblance," two women and their daughter travel to visit the mother of the girl's biological father, who is recently deceased. The ending is quiet, ambiguous and uncomfortable as these people consider the weight and meaning of their connections. "The Summer the Neighbours Were Nazis" is spun from the most marvellous beginning: "My brother Richard was odd. By the time he was twelve my mother yearned for a diagnosis, but he was just odd." A brother and sister spend their days high up in the backyard birch tree observing their eccentric neighbours, and the sister comes in sight of her own mother's struggles and powerlessness: "My mother…was more like Richard than she knew."
In "Stain," a man attending a wedding weekend meets up with a woman he'd briefly encountered years ago in 2001 at the anti-capitalist protests in Quebec City. In "Midway, Midgets and Giants, Photograph 1914," a two-feet-seven-inch tall circus performer reads of the legendary romance between Tom Thumb and Lavinia Warren, their wedding presided over by PT Barnum, and scans the crowds looking for her true love in the stands. And then a different turn altogether with "Fetch," in which a man who supposes that his double has moved in next door, a harbinger of death, and responds as rationally as you might expect. "Acrobat" has a similar tone to "The Summer the Neighbours Were Nazis", about a lonely girl who is new in town and partakes in an informal acrobatic circus, and learns something fundamental truth about herself in the story's final moment.
In "Long Term Care," things get complicated when an elderly father is moved into an assisted living unit, and his daughter fears that he is imagining himself back in Buchenwald, where he was traumatized in his youth. The blind protagonist of "Blind Poet" has a fleeting affair with an artist, the story tied up on classical allusion. "Young Hennerly" is a story and also the title of a creepy song sung to a folklorist collecting stories of residents of the mountains of West Virginia who finds the borders between life and myth begin to blur. In the Alice Munrovian "Boys," a man finds himself responsible for his cousin who has always been a bit different, and whose own behaviour with young boys skirts the line between innocent and otherwise. And in the title story, a woman tells her child, about the sides and allegiances of motherhood, and of daring the "gamble" of bringing a child into the world.