June 11, 2015
Harriet, You'll Drive Me Wild by Mem Fox and Marla Frazee
Okay, can we just stop for a moment while I tell you how I worship at the feet of Marla Frazee's entire career? The woman behind some of the great picture books ever—Everywhere Babies, The Seven Silly Eaters, and All the World. Her own books too—Roller Coaster and The Farmer and the Clown. Her images are so vibrant, complex, textured, diverse, her world so detailed, her babies so perfect, and her toddlers so perfect…ly devious. I love her. I love her. I do.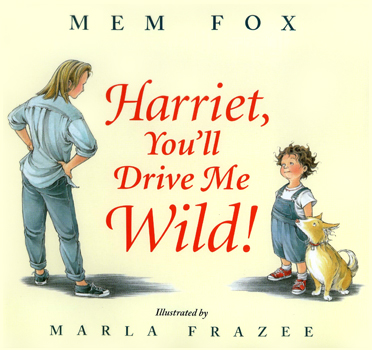 I read somewhere once (or else I dreamed it?) that Marla Frazee was not the original illustrator for Harriet You'll Drive Me Wild, and that there exists somewhere a completely different edition of this book. I am unclear as to the veracity of this rumour not just because I can't find a single shred of evidence supporting it, but more because it seems unfathomable. (Update: but it's true! The book was first published in 1986 as Just Like That, illustrated by Kilmeny Niland.)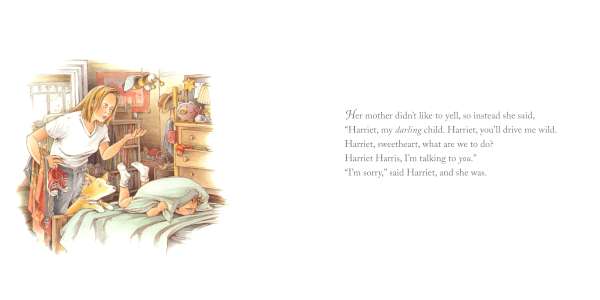 My neighbours gave me their old copy of this book (the 2003 edition) when my Harriet was three weeks old. I remember sitting in the chair by the window, the scene of innumerable struggles to get the baby to latch, and how here was a book very different than the others we'd been reading in that storm. Different from the new parenting books I'd already filled with my manic marginalia, and different from the baby board books with their saccharine endings (which were somehow always about going to sleep. I wondered, when was that part going to happen?). Here was a book that gave me a glimpse of the future, of a time in which my new baby might not be small enough to tuck in neatly across my chest as we napped on the couch—shocking. A glimpse of a child-to-be, full of energy, beans and mischief.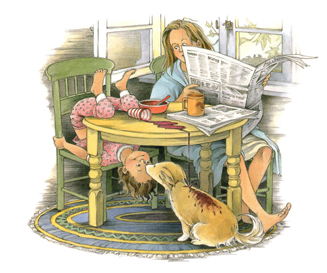 Where Fox's Harriet was once my future, six years later, she's now the past. The character is about three, I think, not intending any trouble (which, according to the text, always happens "just like that"). Frazee's images show another reality, however, of squirms, experiments, curiosity, contortions and shenanigans—but still, she can't help herself. "Harriet Harris was a pesky child. She didn't mean to be. She just was."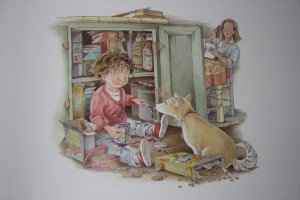 There are so many things I love about this book. First, that it's Mem Fox, whose work has been so essential to my happiness as a parent. (Read Where is the Green Sheep and not be happy. I dare you.) Second, it's a literary Harriet, and we love these. Third, that it depicts a very realistic mother, a bit frumpy and struggling to get her own things done while her daughter thwarts her at every turn. (I imagine that between the pages, she is ignoring her daughter and scrolling through Twitter.) And shows that a mother can get angry (for good reason) but that this is okay. Things—people and pillows—can explode, but that doesn't mean that it can't be made all right again.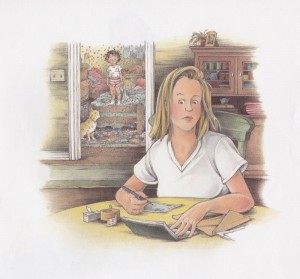 But the foremost reason I love this book is because of the text, and how the lines build on one another along with the mother's frustration. She begins with her patience tested, saying (because she doesn't like to yell), "Harriet my darling child. Harriet, you'll drive me wild." And that added on to that by the end is, "Harriet, sweetheart, what are we to do? Harriet Harris, I'm talking to you." Delivered in harassed mother voice. The alliteration of the name is delicious to say, along with the rhyme. I love the consternation.
Reading the part of a mother in a book is rarely quite so nuanced and interesting.