June 2, 2015
Specimen by Irina Kovalyova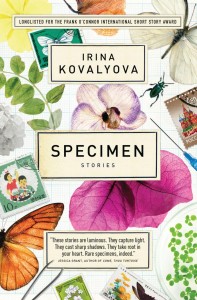 It is true that I've quite possibly been inspired by the title and exquisite cover of Irina Kovalyova's short story collection, Specimen (a cover that is so exquisite. When I went on the subway yesterday, everybody was staring at me and then I realized that everybody was staring at my book), but the stories in the collection do remind me of nineteenth-century taxonomy specimens. Something that is pinned to a board in flagrant beauty, luminous, remarkable, but not quite living. Devoid of life for the purposes of examination, but how the examiner is fascinated anyway. The variety of specimens, their perfect detail, lines and edges—I can't stop thinking about these stories. They're good enough that I can start this review off with my criticisms, and then move along to why the collection is absolutely worth reading all the same.
Specimen is the first book by Irina Kovalyova, multi-talented holder of a doctorate in microbiology, an MFA in creative writing from UBC, who is a microbiology instructor at Simon Fraser University, and a onetime NASA intern. And it's the singularity of her point of view (the lines, edges and details, the wideness and wildness of her premises) that exalts these stories, though a few of them aren't completely realized. Some reveal flat characterization, unsatisfying endings, seem to be experiments that were not entirely pulled off. Not atypical first book fare. And yet and yet and yet.
Reading these stories, I kept thinking about Michael Chabon's essay, "Trickster in a Suit of Lights: Thoughts on the Modern Short Story," which hearkens back to the days (pre-1950s) when the short story fell into the realm of entertainment: "the ghost story; the horror story the detective story; the story of suspense; terror; fantasy; science fiction, or the macabre; the sea, adventure, spy, war, or historical story; the romance story." These days, he writes, it is novelists who write (and find success) in that wild space between genre and literary and find much success there, while the short story pines away often unread and boring. And so into the wild spaces, Chabon writes, is where the short story must go, and it's into these very same spaces where Kovalyova takes her readers.
Which makes for a fascinating ride. "Mamochka" is the story of the Chief Archivist at the Institute of Physics in Minsk who is pining for her grandchild far away in Vancouver, and whose own derangement is manifesting in curious ways. "The Ecstasy of Edgar Alabaster" is a story not quite what it seems, a nineteenth-century record of a patient under hypnosis who confesses to sexual perversions and an incestuous relationship with his sister (and then the whole story collapses into a marvellous hall of mirrors). In "The Side Effects," a patient's Botox injections smooth out her psyche as well as her skin, but life without its wrinkles turns out to be lacking in magic.
"Gdansk" is a story of numbered items, a narrative suggesting some pattern in a chaotic universe, a post-Cold-War story of youth, adventure and "anticipating the world." In "Specimen," a young woman discovers she was conceived via a sperm donor, and must come to a new understanding about the relationship between genetics and fatherhood (and is saved from disaster by her friend who recognizes that her frontal lobe is not yet developed enough for her to make important decisions). That story takes a dark turn at one point, which steers us directly into "Peptide p," a story of experiments on two children who'd survived an epidemic (tainted hotdogs) that felled their classmates, a story whose creepiness is subtle and slow, and becomes terrifying by the end.
In "Gonos," a biology professor considers the troubling product of his own genes as he teaches a lecture on the nature(s) of sex and gender, considering the "correctness" or "incorrectness" of life and coming to a beautiful, hopeful conclusion in the end. And in "The Big One," the ending is ambiguous but maybe hopeful (?), as a woman and her child are trapped in an underground parking garage after an earthquake, the narrative dividing into two—their dialogue and the woman's interior monologue. Also a gorgeous ending: "Without imagination, life makes no sense." A notion that takes us so many different meanings in relation to the stories in this book. The key that holds it all together.
The final story is the novella, "The Blood Keeper," which I was instantly drawn into. But how could I not be? The first line is, "My father, Viktor A. Mishkin, was the keeper of Lenin's mummy." Vera is a biologist studying orchids when her father is sent on a mission to North Korea in 1996 to preserve the body of the recently-deceased Kim Il Sung. She receives a curious letter from him imploring her to follow him to Pyongyang as part of a student exchange where she becomes embroiled in several plots involving love and intrigue. A fantastic read, rich with details and suspense, "The Blood Keeper" reveals Kovalyova as a writer firmly in command of her materials.
So in the end, yes, even with its imperfections (and what specimen does not possess some of these, I suppose) Specimen is a book wholly worthy of its cover. A collection of beauty, light, colour, curios, permitting readers access into worlds that are usually unexamined, those wild spaces in between.