May 18, 2015
Night and Day
Night
We are going through a difficult period. I like framing it this way because it suggests an ending, as opposed to, We are going through a difficult eternity. "It's just a phase," we keep saying. "Things will get better," but we're beginning to sound less sure of this. It has been so long. Nearly two years since I've had unbroken night's sleep. And since we came back from England, things have been awful. Iris moved downstairs into Harriet's room to sleep, but her nighttime wake-ups have continued, plus it's started taking her sometimes up to an hour to fall asleep, she requires us lying down beside her to do so, and then she gets up again at 11, at 1. She won't settle unless she's in bed with us, which would be okay (and I'm certainly not going to fight a screaming nearly-two-year-old in the middle of the night) except that then she flops and kicks and pinches my upper arms. It is unpleasant. And last night we had a babysitter booked so we could go out to a movie, but Iris refused to go to sleep. Or she would be asleep until we dared to rise and leave the room, and then her eyes would snap open and there we'd be again. Eventually, I gave the babysitter $20 and told her to go home, because we'd missed the movie. And it seems like the baby is holding us hostage, when I dare to frame the whole thing like a power struggle (which I shouldn't do—it only makes unpleasant realities worse). We can't go out together to anything that starts before 9pm, because no one else but Stuart and I has the patience to put Iris to bed, and now that she's only staying asleep for 2hrs after that (if she goes to sleep at all), the world seems to have shrunk to the size of an acorn. I know that there are far worse problems to have than this one, but perspective can be hard to come by when one is having melodramatic thoughts about being subject to tyranny. Five years ago, I wrote a blog post about baby sleep books called The Trajectory of a Downward Spiral, but the trajectory of this plot is more like a head smashing into a wall. Repeatedly.
Day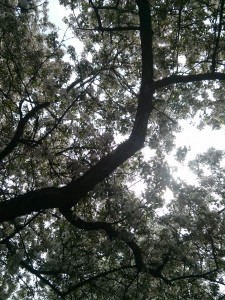 But. We have had the most wonderful weekend. A weekend whose wonderfulness is currently under threat as I spend this holiday Monday morose and bereft at the end of Mad Men. The children watched Annie and ate goldfish crackers in Harriet's room while Stuart and I watched the final episode this morning. It was so absolutely perfect. Overwhelmingly good. I feel about this show like I've been immersed in the narrative for six years, swimming around inside it and examining from all angles. I can't believe it's over, but then it isn't really. We rewatched an episode from Season 1 on Saturday night, and it occurred to me that I'll never really be done with it. But still, I'm sad there is no more to look forward to. So many of my feelings were invested in these characters. It all mattered a lot to me.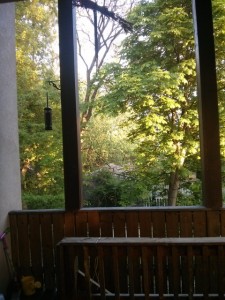 On Saturday, we celebrated summer things with a trip to the Wychwood Barns Farmers' Market and ate delicious food, and delighted in the fact that our children are old enough to play unattended (in mud puddles, no less) while we sit on a park bench. We also delighted in that our children were so thrilled to take the bus to the market, but were also cool with walking home. So many of my plans for this summer are inspired by Dan Rubinstein's book, Born to Walk, and I appreciate that Harriet is big enough to be venturing further afield on foot, to be discovering her pedestrian legs without (too much) complaining. But there are also wheels, and so after Iris's nap, she went on a bike-ride. We're going to shed the training wheels this summer, we've resolved, but this is just one more thing we're not sure about how to teach her to do—along with shoelace tying. After that, we did our planting, mostly flowers because the squirrels thwart our efforts to grow anything more substantial. Some kale and basil, but otherwise impatiens, and suddenly our deck is beautiful again. The silver maple that shades our house and yard in magnificent bloom. There is a hammock set up underneath it.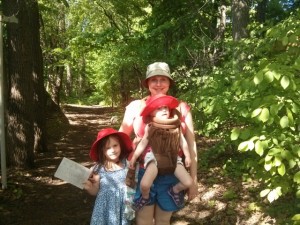 Yesterday, we went on our first ravine walk of what is to be many, as we've declared 2015 as #SummeroftheRavines. Once again, this is a plan born of Born to Walk—to explore these wild corners of our city. We didn't have much of a plan and climbed down into the Rosedale Valley via the path behind Castle Frank Subway Station. Unfortunately, Bayview Avenue cuts off our access to the Don Valley, which we weren't expecting, so we had to climb back out of the ravine in order to get to where we really wanted to be, and by this point, it was nearly time to quit.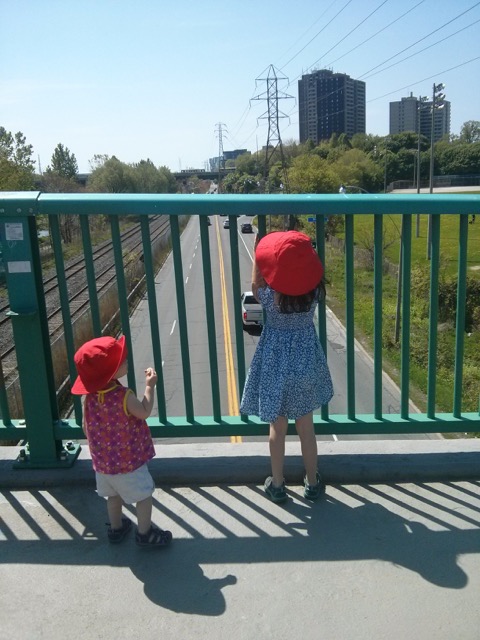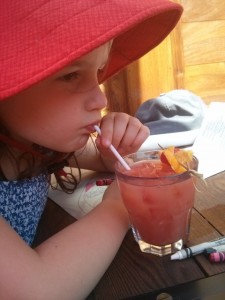 But we had fun and the weather was beautiful, and once again, there are very little complaining. We'd compiled a Ravine Walk Bingo sheet, which gave our walk some incentive, as did the promise of lunch afterwards. We went to the House on Parliament and had the most delicious meal, our first patio of the season. And then back to the hammock. I've been reading H is for Hawk all weekend, which is not a great read for the emotionally fragile, I am realizing. But it's really good, deep and layered, and totally weird. So intense. It is possible my whole family will be relieved when I'm finally completed it.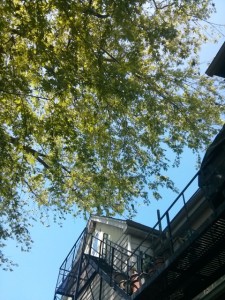 Which brings me to right now where I've just been delivered lunch. ("Um, if I'd known you were having lunch in bed, I might not have brought you breakfast there.") And it's up to me to save this day from my lugubriousness and histrionics. Iris has started being capable of having actual conversations (albeit stilted ones, usually about dogs), which is extraordinary, and clearly her brain is going wild these days. If I'm able to muster perspective, it would be that these development changes are responsible for our sleep woes. If I am able to focus less on the woe. In a few weeks she will be two. Harriet turns six next Tuesday. For our family, the next month and a bit is a season of happy birthdays and anniversaries and so so many reasons for cake. (Another? My sister is having a baby tomorrow.)
It all goes by so fast.