May 7, 2015
Melvis and Elvis by Dennis Lee and Jeremy Tankard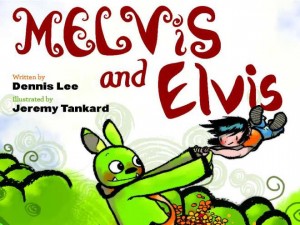 It's been over forty years since Dennis Lee invented Canadian children's literature with the publication of Alligator Pie, following it up with Garbage Delight, The Ice Cream Store, and Jelly Belly, books that have moved seamlessly from my childhood to my children's, so that we all know Suzy Grew a Moustache, In Kamloops, and Hugh Hugh at the age of two, who built his house in a big brown shoe. Combining the rhythms and touchstones of Mother Goose rhymes with contemporary references (and ones more charmingly dated—I'm thinking the rhyme that mentions Eatons, Simpsons and Honest Ed's) and unabashed Canadiana and Toronto-Centrism, Dennis Lee has provided most Canadians with their poetic foundations.
And here it is: his latest collection, Melvis and Elvis, is just as good as all the rest.
How does he do it? How has he not yet run out of rhymes? How can something so simple keep seeming so fresh? How can we read a poem that begins, "Mary McGregor/ McGuffin McGee/ Went for a ride/ On the TTC." and immediately feel as though we've always known the poem by heart? How "Is Your Nose Too Small?" (to the tune of "Do Your Ears Hang Low?) so perfectly hilarious? And the collection too with its mix of poems that are tender ("Sleeping With Bears") and others slightly gross ("In Cabbagetown," with its exploding bellies) and others naughty (one poem about a stinky friend, and another that ends, "And pounding on your head all night/ Was fun. But very impolite."). Plus there is a poem about dinosaurs. With a poem about dinosaurs, you can never go wrong.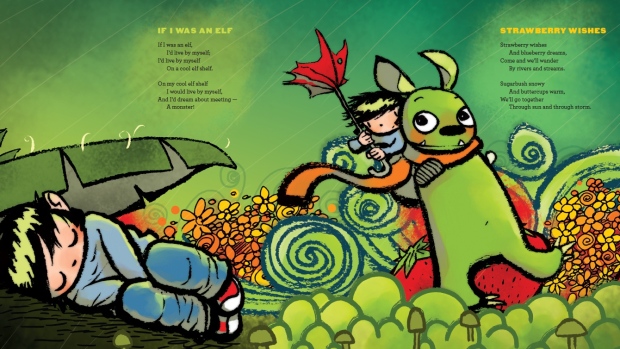 Dennis Lee is so respectfully and intelligently silly, and so much of the delight of his work comes from words themselves. Because is there anything more fun than rhyming pony with macaroni? Never mind that Yankee Doodle has been doing it for centuries, but in Lee's "When I Woke Up," one is reminded of the point of it all. And his rhymes are perfectly complemented by Jeremy Tankard's illustrations, which seem to combine the otherworldliness (and psychedelic feel) of Frank Newfield's illustrations for Lee's first two children's books, but investing them with far more kid appeal. Returning to the book over and over again, an overarching narrative becomes apparent involving Elvis the Elf and Melvis the Monster of the title, and in the book's final poem, all the characters from the previous pages assemble to sing a song together, and we delighted in recognition.