May 3, 2015
My bookselling dreams come true
Was Authors for Indies Day just an elaborate ruse to make all my dreams come true? Because if it was, it worked. After a very fun morning of Jane's Walking through our neighbourhood, I took to the subway over the East Side to Book City on the Danforth. I met up with friendly authors including Alissa York and Jessica Westhead, and we took to selling books. My best pitch was for Where'd You Go, Bernadette?, which I'd read gleefully, staying up all night the night after Iris was born. I'd read it again recently, I'd assured customers, and still loved it just as much, so it wasn't simply the effect of drugs. It turns out I have a talent for enthusing about books in public though—I sold copies of Ellen in Pieces, On Immunity and The Bookshop Book (though all I had to do was show them the pictures…). And I also sold Jessica Westhead's And Also Sharks, Arguments With the Lake by Tanis Rideout, Mating for Life by Marisa Stapley, and Fauna by Alissa York. Plus, Everywhere Babies and Swimming. Swimming, for the picture book crowd. It was ridiculously fun and there was baked goods.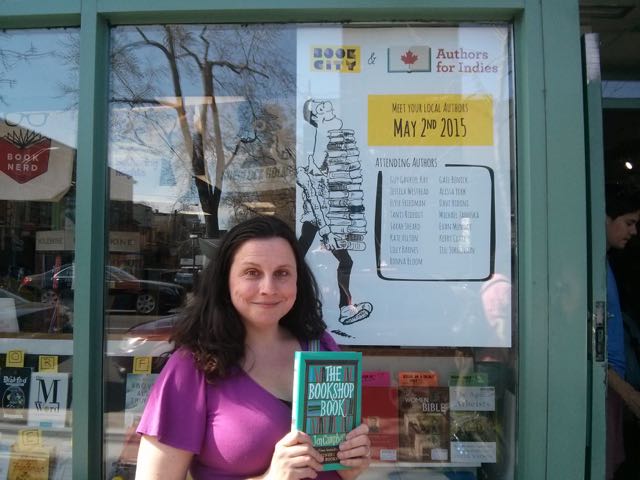 And then my family arrived, and my shift was up. And naturally I had to buy books of my own, and then we went out for Greek Food, and then gelato, and I really don't know how you can't say that Authors for Indies wasn't the success to end all successes.
So many thanks to everyone who came and went shopping!