April 20, 2015
Vacation Book Six: Outline by Rachel Cusk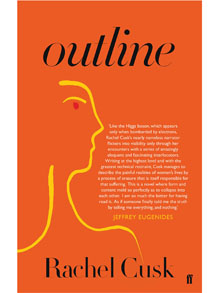 I've not actually started reading Outline, but hope to do so tonight once I've finished up with How to Be Both. I spent Iris's nap time today lying on the grass in the garden while the blue sky shone high above, and the reading was splendid. Afterwards, we went to the beach one last time and had ice cream while it was actually sunny, which was kind of novel. I walked on the beach in bare feet, and Harriet wore wellies with a skirt and looked like Katie-Morag. This morning, we went to Lytham-St. Anne's, where I'd never been before, and I loved the shops, the trees, wide sidewalks and greengrocers with gorgeous displays of fruit and flowers. And they have a bookshop! We were pleased to visit Plackitt and Booth, whose branching out into toy sales has not compromised their book selection at all. So many Canadian authors, and a nice mix of hardback and paperback, new and old—just the selection I've come to expect of indie bookshops. I had an excellent bookish conversation with the woman at the till, pausing in between while customers came in to collect their special orders. And Harriet and Iris played in the back of the shop, finally choosing tiny girl pirate figurines for purchase (and we had fun taking photographs of these on the beach later).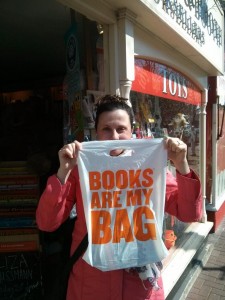 I bought Nina Stibbe's Man at the Helm for my sister-in-law's birthday (which was actually in February, and I'd bought it for her previously from a non-Amazonian UK online retailer, but it was mistakenly shipped to our house instead of her house, and then we forgot to bring it with us—the copy at home will be a gift easily re-gifted, fortunately, as it's such a funny novel) and two more Katie Morag books because we're obsessed, and I was so excited to get a "Books Are My Bag" bag because I've been following them online (and The Bookshop Book was the official book of their campaign!). I will cherish it as much as one can do with a plastic bag. Perhaps it can take the place of my purse—I can be like that woman in Carol Shields' Unless—Gwen, I think—who carries a plastic bag instead of a purse and then ends up pinching Norah's scarf.
Tomorrow we leave our family, and head back down south, which means we'll lose our Wifi and also the relatives to entertain the children while I recap our days with blog posts and laze around reading. So I may be heading out of touch. We have a day of travel, a day in London, and one more in Windsor before we head home on Friday. It has been a truly lovely vacation. I feel like we've been away forever, and I'm not quite finished with it yet.