April 16, 2015
Vacation Book Four: The Vet's Daughter by Barbara Comyns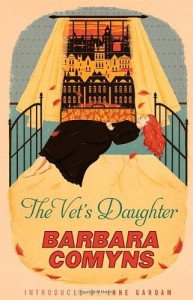 Today was glorious! We left the children behind and took a trip to Yorkshire, to the wonderful town of Ilkley, which we visited when we were here four years ago. The appeal then was that I was reading Burley Cross Postbox Theft and Ilkley was fairly close to the fictional Burley Cross, plus I'd been reading about Betty's Tea Rooms in Started Early Took My Dog by Kate Atkinson, and I wanted to visit one. Today we wanted to do it all again, and also pay a visit to the excellent Grove Bookshop, and what a joy to finally visit an independent bookshop. The Waterstones in Lancaster is beautiful, but they've failed to have the books I'm looking for in stock. (This tweet should also set you as to what's wrong with Waterstones, and why you should support your local independent bookstore ALWAYS**). The Grove Bookshop, on the other hand, had everything I wanted in stock, and more—a lovely display for the Baileys Shortlisted books. I got Outline by Rachel Cusk, How to Be Both by Ali Smith, and The Secret Library by Haruki Murakami because the design was amazing—it has an actual library pocket on the cover!
We spent lots of time browsing at the bookshop, appreciating their excellent displays, fantastic selection, chatting with the staff, and admiring the bunting in the window. We were also delightfully full after afternoon tea at Betty's, which was a terrific treat. I am definitely enjoying combining my scone and book-buying experience on this trip. And then we walked around Ilkley, which was so green and gorgeous, cherry blossoms in bloom. We bought a pheasant pasty from Britain's Best Butcher, and had another cup of tea at The Toast House across the street, which I loved because they had a copy of one of the most delightful Canadian picture books ever in their kids' reading nook, and also because they used bundt pans as decoration. We decided that next time we come, we're definitely going to go up on Ilkley Moor, and if the children don't whine (much), we'll reward them with afternoon tea for afters.
The last time we drove to Ilkley, the car in front of us exploded on the motorway off-ramp, but nothing so eventful happened this time. We drove home down winding roads, and were so pleased to come home to happy daughters and a not entirely exhausted Nana who was triumphant in having put Iris down for her nap (all of whom were made all the more happy by the fact that we bought treats back from Betty's). And now I am going to have a bath in the most luxurious tub in the Northwest and read some Barbara Comyns whose Our Spoons Came From Woolworths I loved so very much.
Tomorrow we have no plans to visit a bookshop, but we are going to a cheese shop, which should be just as good.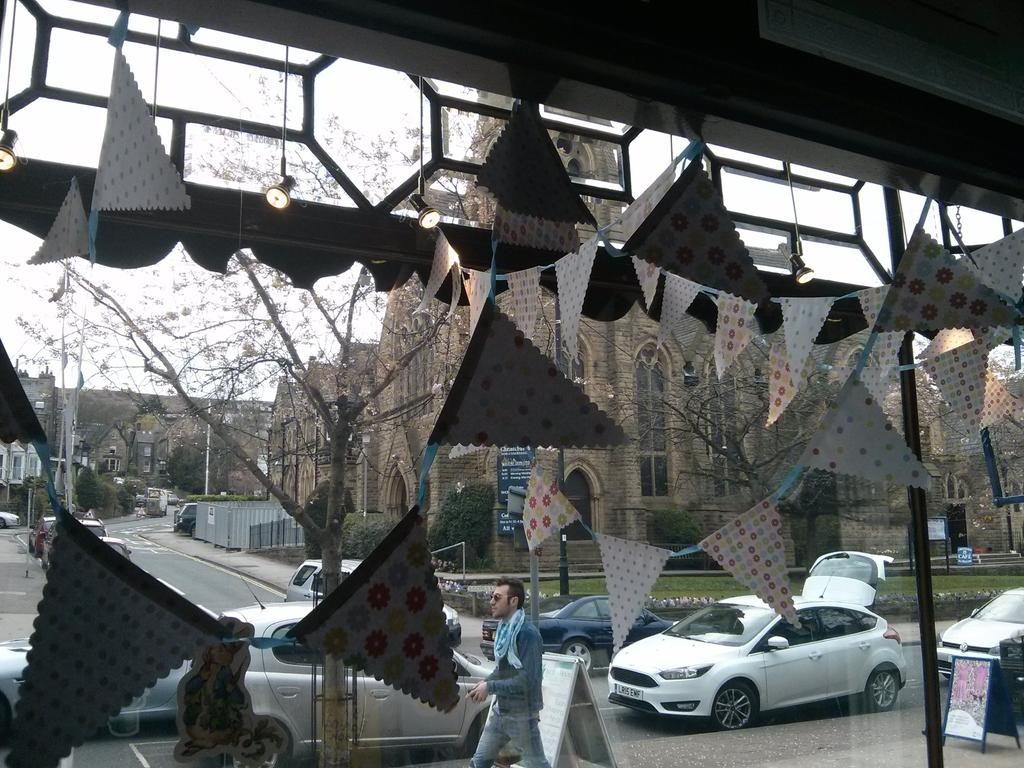 **Speaking of Independent Bookshops, I'm happy to be taking part in Authors for Indies Day on May 2 at Book City on the Danforth. Between 2-4, I'll be guest bookselling, talking up my favourite titles. I hope you will come and visit! And if it sounds good but not local, I am sure you can find a similar event going on in your neighbourhood. It's going to be great.