March 31, 2015
The Big Swim by Carrie Saxifrage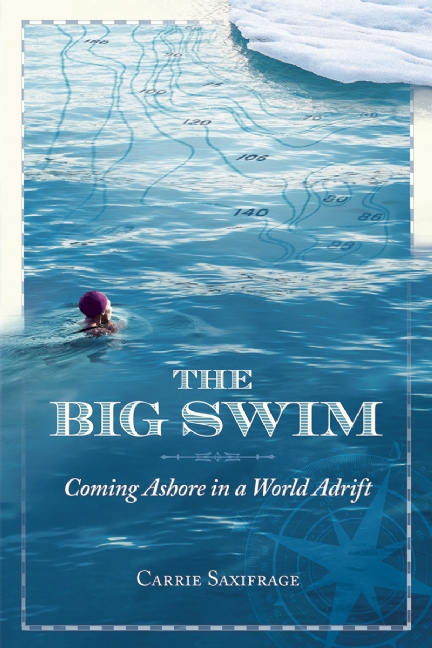 Books come from trees, and I've got this theory they never entirely shake their wild origins. I think this every time I'm reading outside in the spring and blossoms rain down on my book's pages, or when a tiny midge appears and sits down at the end of a sentence. The poetry book Decomp by Stephen Collis and Jordan Scott was created from what remained of copies of Origin of Species that had been left in five distinct ecosystems to decay for a year, and I love that idea: of books and reading being so firmly embedded in nature, like they belong there. And in her extraordinary book of essays, The Big Swim, Carrie Saxifrage underlines this point, with references to literary pumpkins (Linus's, Cinderella's, and Peter Pumpkin Eater's wife's) in her essay on growing a 300 lb. squash; by recounting her grand awakening to the perils of climate change that came with reading—a series of articles by Elizabeth Kolbert; by explaining that she writes about climate change because it's the one thing that relieves her heartbreak about understanding what we're doing to our planet; and finally by making the natural world come alive for her reader, capturing the wonderfulness and wondrousness of nature in sparking, evocative prose.
The next best thing to a tree for a tree to be, I'd say, would be any single page in this extraordinary book.
Rachel Carson's Silent Spring meets Annie Dillard's Pilgrim at Tinker Creek meets Elizabeth Gilbert's Eat Pray Love, with a healthy dose of Barbara Kingsolver—perhaps Animal Vegetable Miracle, a book that woke me up to the wonders of eating by the season, local food movements, and that potato have greens—who knew? In 12 absorbing, funny, and thoughtful essays, Carrie Saxifrage connects the personal with the universal and the scientific to the spiritual to celebrate her love for the world and confront her anxiety about its fate.
It's a perfect book for spring, I think. Partly because bunnies turn up twice. The first time in "Hare," when Saxifrage writes about tensions between "tree-huggers and rednecks" on her home of Cortes Island, BC. A friend whose family has ties to the local logging industry dares to bridge the gap between the two groups, but it all gets very complicated. (There is a blockade at one point, and Saxifrage offers muffins to everyone on sides, and I do so like that she appreciates the value of the muffin as a political tool.) A long story and good intentions lead to Saxifrage dressing up as "The Easter Hare" (not the bunny, no, this is the pagan symbol for springtime fertility) for the Volunteer Firefighter's Easter Brunch, but things go wrong as best intentions always do, and our heroine ends up locked in a bathroom with terrifying children threatening to break down the door. In the end, Saxifrage resolves to get on side with her friend's family by "non-controversial public service" in the future. Hopefully there still can be muffins.
In "Lagomorphic Resonance," Saxifrage is hiking alone in Washington State, the same places she'd visited years before with a friend who'd later died: "It still felt like some remnant of Paul and me, as we had been, remained in the place itself." And she's there to see the pikas, mouselike creatures who are cousins of rabbits and live high up on mountains, who "seem like one of the many improbable details of the world's enormous diversity." The essay is partly about rumours of the pika's endangerment, threats to its habitat by rising temperatures due to climate change, partly about her anxiety as mother of a teenager (and this anxiety hangs over a lot of the text in a really interesting way), about loss and memory, and the tremendous glory of being alone in quiet places.
The essays aren't so much about what they're about as they're about narrative, and so many facts, anecdotes, sidelines adding layers of meaning to the reading experience. In the title essay, Saxifrage swims five miles in the cold ocean between Cortes Island and Quadra Island, capturing the unsexy details of such an endeavour (her entire body covered in lanolin to protect against the cold) and the thrilling ones, about the pleasures of swimming and its movements, of immersion, the challenges of endurance. It's one of the best bits of swim-lit I've ever read: "Romantically speaking, I'm part ocean mammal. I spend time thinking about how real mermaids would actually swim… I'm strongly related to the marine branch of the family tree." And why does she she partake in the splendid agony of these five mile swims? Because they permit her to "belong…to a vast, cold world where brilliant seaweed banners wave in exultation."
(So yes, my love of this book also isn't just because of what the essays are about, but because of how the writing is so incredibly good.)
In "Pumpkin People," Saxifrage attempts to make her way into the community on Cortes Island where she has arrived as a homesteader (and one who was previously an American lawyer, no less…) by participating in the annual ritual of growing outsized gourds; in "Hail Mary, Shining Sea" she is awakened to the reality of climate change and its threats to the planet, this idea mingling with notions of "goodness"; pursuing a low-carbon lifestyle, she and her husband eventually stop flying, and so it's by Greyhound bus that she makes her way to Mexico for adventure and Spanish lessons and to be part of a shining sea in a metaphoric way. "Deep Blueberry Gestalt" is Saxifrage hiking through Vancouver's Strathcona Park alone while reading Arne Naess's ideas about "possibilism": "that we must decisively come up with our view of life and find meaning in it, yet remember that more things are possible than we can imagine."
In "The Oolichan and the Snake," she attempts to understand First Nations opposition to the proposed Northern Gateway Pipeline by taking the Greyhound for 20 hours to Kitimat in Northern BC to listen to First Nation testimony. "A lot of people don't understand how industrious our people really were," explains Gerald Amos, an elder of the Haisla Nation. "On this river alone, we estimate that our people harvested 600 tonnes of oolichan in the springtime. This went on for untold generations. We've made our living here for thousands and thousands of years without destroying it."
"Nectar" is a beautiful story of Saxifrage's mother's final days, and contains one of the loveliest lines I've ever read: "Maybe when you love someone…you are preparing for a moment you don't even realize will come." "Falling into Place" is about a confluence of her mother's death with the discovery of an ancient human jawbone on their property. "Journey to Numen Land" I loved because Saxifrage decides that sleeping a lot is radical, and she attempts to draw connections between her sleeping and waking life to fascinating ends. She returns to the water in "River Creatures," rafting through the Grand Canyon and swimming (of course!) part way, making connections between her mother, the fossilized creatures in the canyon walls and river guides who'd gone before her: "None of them got to preserve for all time what they loved, or even completely determine their own course. Like me, they had the opportunity to study the rapids, choose their path, and find joy in the river's firm embrace."