March 29, 2015
Easy, healthy, delicious wholewheat banana pancakes
On the occasion of it being Sunday, I wanted to share with you my recipe for the easy, healthy, delicious wholewheat banana pancakes I make for my family every Sunday morning (while reading the paper, of course), once I finally manage to get out of bed. This recipe has so thoroughly been adapted that it's totally mine. And now it also can be yours!
It's a very forgiving recipe with measurements so exactness is not required (and banana size may vary, so that's a good thing). Basically, if the batter is too gloopy, add more flour, and if it's too thick, add more milk until you reach your desired consistency.
Serves 2 adults and 2 children, with a couple of pancakes left over. The children will have eaten the leftover pancakes by lunchtime if you leave them out on the counter on a plate.
Ingredients:
1 cup of buttermilk (a tablespoon of lemon juice turns milk into buttermilk)
2 eggs
2 or 3 ripe bananas, mashed
1 cup of wholewheat flour
2 teaspoons of baking powder
1/4 teaspoon of salt
Coconut oil (which we only use because it's trendy, but vegetable oil will suffice)
Directions:
1) Whisk buttermilk, eggs and mashed bananas together in a medium-sized bowl.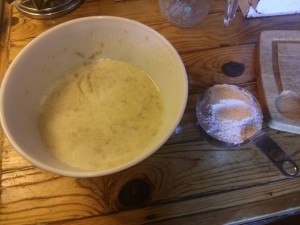 2) Add the dry ingredients and whisk until the batter is smooth.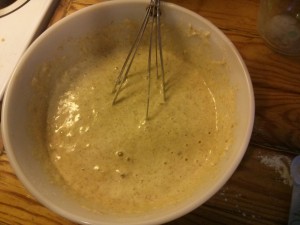 3) Melt 1 tablespoon of coconut oil in whatever pan you happen to have.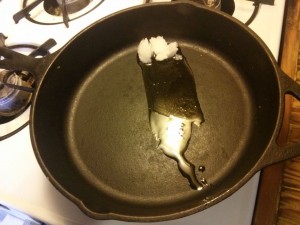 4) Add 1/4 of a cup of batter to the pan once the oil is hot (i.e. sizzles when you flick some water at it). Add a few other 1/4 cups, leaving room between pancakes. Pick up the newspaper and read an article or two.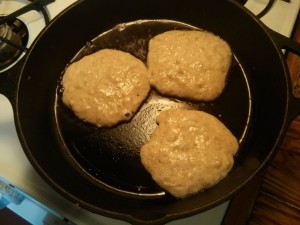 5) Flip the pancakes when bubbles have appeared on the top and/or edges are browned and/or when pancakes are formed enough for easy flipping.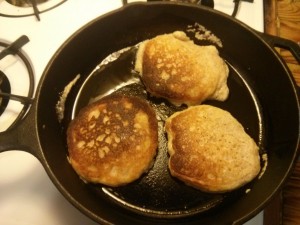 6) Don't worry if they're a little overcooked—the maple syrup will eliminate any problems with that. Read more of the paper while cooking for 2 or 3 minutes until the bottom side is browned, and then remove from the pan.
7) Repeat with the rest of the batter.
8) If you finish reading the paper, enjoy in the company of a good book. Serve with maple syrup and fresh fruit. And tea. Always tea. (Below is a photo of my last Sunday. It was a good one.)