March 25, 2015
Pickle Me This: The Digest
You'll see up in the top of the right-hand column that I've started a Pickle Me This newsletter, which will be referred to with the far more literary title of "Digest." The Pickle Me This Digest will be the best of the blog delivered each month to your inbox with a smattering of book reviews, picture book reviews, and other features. I know that fewer people are visiting blogs on a regular basis these days, and instead come to specific posts via social media links, which is all fine and well, but I thought the Digest might be a great resource for anyone who'd like to stay better in touch on a regular basis.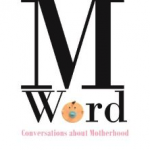 Even better? Anyone who signs up for The Pickle Me This Digest in the next month will have their name entered in a draw to win a copy of the essay anthology I edited, The M Word: Conversations About Motherhood, which was published last year by Goose Lane Editions. Mother's Day is coming up soon, so the book is timely. And if you have a copy already? Well, why not pass your extra copy along to a friend? As Deborah Ostrovsky wrote in the Fall 2014 issue of Herizons magazine, "… You won't keep this book; you'll pass it on to friends whose current vocation is changing diapers, or to friends who want a child, and those who don't."
If you've already signed up for the newsletter, I'll add your name to the draw. And as ever, thank you for your support of Pickle Me This!