March 19, 2015
A sign of spring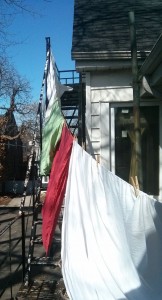 I love the springs that arrive like this, like an unexpected gift instead of something long overdue. Spring is not quite here yet, but it's making itself known, the way the green of a crocus appears like a dot in the dirt (and the way a tooth first appears, a dot of white on a baby's gum—this is my metaphor lately). There are no leaves on the trees and the air still has a chill, but look how the sky is blue, the snow is gone, and our household's sheets are drying on the line.
Though the surest sign that it isn't spring (yet) is how cold were my hands after hanging out the sheets. Soon though…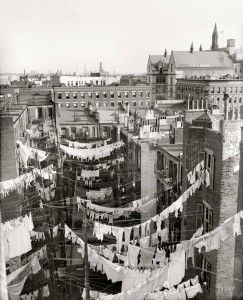 I was inspired to hang out the sheets from Sarah's blog post about hanging out her washing (and her comments on the magical high-up washing lines with pulleys that need to be hauled in and out—I dream of these, though they terrify me also. What if something comes loose and my pillowcase falls down six stories, lost forever). It strikes me what a literary thing is clothes on the line—indeed, as I was hanging the sheets this morning, the "Grandma hanging washing on the clotheslines to be dried" line kept bouncing through my head from Peepo.
For more on literary washing, do read Anita Lahey's blog post, "Oh, let there be nothing on earth but laundry." (Lahey had a poem included in the anthology, Washing Lines, a collection of poetry of laundry and washing.) And see also Matilda Magtree (Carin Makuz) with "Pinning, Pining and Penning," about repairing clothespins and other essential acts.