March 16, 2015
My review in CNQ 92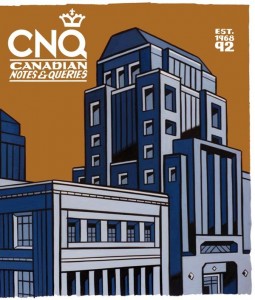 I'm very pleased to have a book review in Issue 92 of Canadian Notes & Queries, which should be on newsstands now or soon. I'm pleased first because it's a neat issue—my friend Rebecca Rosenblum wrote a wonderful essay about the role played by levelled readers in early literacy, and I loved JC Sutcliffe's piece on Innu and Inuit translation (including of Sanaaq), and lots of other intriguing pieces I have yet to explore in their entirety, including Alex Good's talked-about take-down on "Canlit's ruling gerontocracy".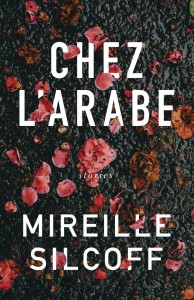 But I am really pleased about my review in the issue because it's of Mireille Silcoff's Chez L'arabe, which was a really great book, one of my favourite reads of last year. And because my review is one of the best I've ever written, I think. I worked really hard on it and I'm really proud of it as a testament to Silcoff's work and as a piece of writing in its own rite.
"In Illness as Metaphor, Susan Sontag writes, "the most truthful way of regarding illness… is one purified of…metaphoric thinking." Albeit from an angle less concerned with truth than fiction, celebrated journalist Mireille Silcoff, in her debut story collection, Chez L'arabe, also situates illness as a point at which metaphor fails. At the centre of the book is a character suffering from a condition in which the spinal cord develops holes and begins leaking fluid until there is "no cushion around [the] brain, soft brain knocking against hard skull, no buffer, and every car ride felt like a prelude to an aneurysm."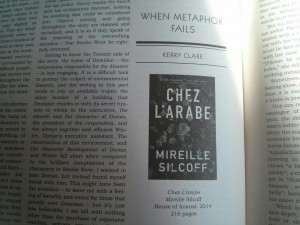 And what is the reader to do with that?
Metaphorically speaking, this affliction is a universal one, particularly in literature. Has there ever been a book that was not about metaphoric bumps in the metaphoric road that makes minds hurt (metaphorically)?
But no, the metaphor is too obvious, too awful. Particularly when we're presented with a character walking to the car with her tripod cane, who then must lie face down across the backseat with her nose pressed into a cushion. "[P]lease be very careful on the potholes," she tells her taxi driver. There is nothing metaphoric about that.
Sometimes, as both Silcoff and Sontag show, a thing is just a thing, and thus it is materiality with which Chez L'arabe is preoccupied."
Buy the magazine, and read the whole thing. And then read the book. Read everything!