March 15, 2015
Higher Ed by Tessa McWatt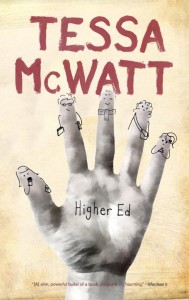 There seems to now be a tradition of me beginning reviews of novels by Tessa McWatt—Vital Signs in 2011 and Step Closer in 2009—with a comment upon their strangeness, and now it would just seem wrong if I didn't. Part of might be their author's point of view—Guyanese-Canadian-turned-Londoner— which is a rare one in CanLit, and her sentences, with their particular rhythm and cadence, how the prose seems inflected by the beats and thrums of everyday life, how actual people think and speak. And also McWatt's preoccupations, with theories and ideas instead of the minutia of plot. Her characters, while they talk like actual people, don't quite move about in the world like actual people. They exist to prove a higher point, which is kind of a criticism, but not really. It's more to  note that to read a Tessa McWatt novel is to read a little differently, and that we're not reading for realism anymore.
Which is not to say that McWatt doesn't engage with reality, particularly here in Higher Ed, her sixth novel. It takes place in London a few years ago on the verge of economic meltdown against the backdrop of a polytechnic-turned-university facing the inevitable funding cuts. Jobs are on the line—film professor Robin knows this doesn't bode well for him as the most junior in his department and a theorist who doesn't impart skills that translate into employability; administrator Francine, an American ex-pat, is also expecting to be sacked, as she had been not long ago by her boyfriend, therefore finding herself in her 50s without much of a foundation to stand on; Katrin, a Polish emigre (with a degree in economics), is trying to keep her menial job in a cafe but she keeps being tripped up; and then Ed, who works for the Council making final arrangements for those who have no one else to do it for them. One of the last vestiges of that society that Margaret Thatcher was so determined to prove didn't—or needn't—exist.
And then there is Olivia, an idealist, a law student. Biracial, she's grown up with her white mother and her racist granddad ("He's the kind of geezer who fools you, who is clever and doesn't raise his voice except at the telly, talks like he has schooling, talks like he reads books, but deep down Granddad's ignorance is as deep as his unknowing of his own soul."). All she's ever really known about her dad is that he left her, but when she stumbles upon him—he is Ed who works for the Council—while researching a project on paupers' graves, she learns there is more to her story than she thought. Determined to save her father's job—because her mother is hardly going to take him back if he's unemployed, right?—she ropes Robin the film prof into coming up with a plan to celebrate the poetry of Ed's work, to perhaps highlight the necessity of a job like his in a world that has any hope of being decent.
But Robin is not the right guy for the task, really, and he's got concerns of his own—he's fallen in love with Katrin from the cafe just as his ex-girlfriend has told him she is pregnant. Meanwhile, Katrin is calculating how she's going to have her mother come live with her in London, how she's going to be able to afford a flat that's bigger than her bedsit. These people walk the same halls as Francine, who's been traumatized by witnessing a man killed in a motorcycle accident (whose belongings in the home where he was a lodger will be eventually secured by his family in Italy, thanks to Ed) and is walking on the edge of something that's going to change her life—for better or for worse.
The diversity of voices in the novel is impressive, McWatt convincingly infusing each character's narrative with the appropriate vocabulary and syntax based upon the character's background. Each character's story comes with its own richness, which is enhanced by the opportunity to see these people from another's point of view. How exactly their lives overlap seems forced seemed forced times, but these instances were forgivable—these lives were compelling enough no matter their trajectory. But I'm still a bit confused by the effect of all their lives together—what do all these pieces mean? My lapse in understanding partly due to my own failings—if I'd read the work of philosopher Gilles Deleuze, would it all have been clearer? And so I'm as puzzled as I ever was, but confident in McWatt's project, that—as her character suggests in Step Closer—"There is an order here, awkward and quiet, even now, if you look carefully." Which you could say about the world—or at least its cities—, I suppose, and McWatt's achievement is a novel that's a microcosm of such a thing.