February 24, 2015
Islands of Decolonial Love by Leanne Simpson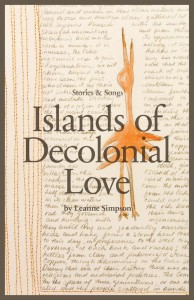 "for every one of your questions, there is a story hidden in the skin of the forest. use them as flint, fodder, love songs, medicine. you are from a place of unflinching power, the holder of our stories, the one who speaks up."
I can't hold Leanne Simpson's Islands of Decolonial Love in my hand and tell you what it is. I don't want to, actually. To say I'm finished with it, that I get it, that it's just one thing. When these are "Stories and Songs," and tricky and various. Full of voices—I don't know that I've ever read a collection packed with such a motley crew, every one with a story to tell and power behind it (even when lack of power is the story), blending European and Indigenous literary traditions. I read it last week, and then tonight sat down and listened to the spoken word recordings of some of the pieces, set to music. They're beautiful, vivid, and you can listen to them here.
Last week, we had a virtual round table on The State of the Canadian Short Story at 49thShelf, in which Doretta Lau had mentioned Simpson's collection as one that had blown her away. I'd already ordered the book, because Marita Dachsel had mentioned she'd heard Simpson read from it, and it was already included on this list of books by First Nations women (as suggested by Sarah Hunt, who inspired the list). If it hadn't been on my radar already, Thomas King named Simpson as recipient of the RBC Taylor Prize for Emerging Writers last year.
These stories aren't easy, although they start off more cozy and familiar, stories from childhood, but these stories have edges meant to jar readers out of complacency. From "Buffalo On," "right off the bat, let's just admit we're both from places that have been fucked up through no fault of our own in a  thousand different ways for seven different generations and that takes a toll on how we treat each other. it just does." "ishpadinaa" begins, "if i write in small characters no one will notice my grandma's lying on a picnic table in dufferin grove park." (This story put me in mind of Grace Paley.) I wanted to underline, "there are a couple of problems with being twenty-two but you don't know about them yet because you can only find out about the problems sometime after you are no longer twenty-two…" from "Treaties."
The stories about Peterborough—Nogojiwanong in Mississauga—were particularly interesting to me, as I grew up there. "yeah, it was me. i blew the fucking lift lock up in downtown peterborough…I don't know where you're going to fucking skate in the winter and i don't care. oh wait. skate on the lake. oh wait, it doesn't freeze anymore because you wrecked the weather." And "jiibay or aandizooke", which you can listen to here (and you should), about settlers who build their homes on burial mounds on the shores of Rice Like, and call 911 when they discover skulls in the ground while excavating for a new back deck. "Please pass the salsa."
I don't pretend to understand everything going on in these works. In most of them, there is a moment when the whole thing flies out my grasp, and then I have to chase it. I appreciate the music and spoken word accompanying these pieces though because the format suggests these are stories to return to, as you would a CD or song. Not like a book, that we tend to put on the shelf once we're done. Like I said, I don't want to be finished with these works, and they adhere to the oral tradition in this respect (which is implicit in the address of a lot of these pieces, all the voices I referred to), that these are stories meant to be returned to, shapeshifting, as the reader's perspective does, the details slightly different every time.