February 8, 2015
Cover Before Striking by Priscila Uppal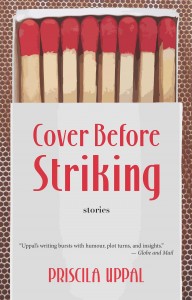 My husband still talks about it, a book of short stories he read in 2008. It was Bang, Crunch by Neil Smith. "That fucking story about a glove." He has no truck with it. I try to explain, to defend the narrative voice. "But it's a story from the perspective of a glove." And I suspect there is a sizeable percentage of the population for whom this point remains inarguable.
Which is relevant to Priscila Uppal's short story collection, Cover Before Striking, because of the story from the perspective of, well, a pair of feet. Which is to say that this is not a book for everyone, a cozy book like a duvet to curl up in. But then Priscila Uppal has never made a point of making her readers cozy—her Projection: Encounters With My Runaway Mother is one of the sharpest, most devastating, uncomfortable memoirs I've ever read. (It's also brilliant—I contacted her not long after reading it and invited her to contribute to The M Word and [full disclosure!] she did.)
In addition to her memoir, Uppal is widely celebrated for her work as a poet (and a sports poet in particular), an editor, and a novelist. Cover Before Striking is her first collection of short fiction, stories written over the course of her career and now published together. This makes for a disparate and somewhat unsettling collection whose unifying thread is that its author pushes the limits of the short story as she does other forms (and in moving between forms). Uppal is not a master of the short story, but instead she seeks to disturb it, resulting in a book that's unfailingly interesting, but definitely not recommended for anyone who didn't like the story about the glove.
A preoccupation throughout the book is all things domestic, expectations of this setting and set-up thoroughly subverted. The first story, "Recipes for Dirty Laundry," is ostensibly about stain removal, the nature of the stains revealing sordid truths about women's experiences: rape, sadness, caregiving, heartache. "The Boy Next Door" has a cozy title, but its reality is revealed in the story's first few sentences: "If I told you my mother ran away with the boy next door, I wouldn't be lying. Except that he was a man, not a boy. And a priest, not my father." In "Wind Chimes," a man deals with the legacy of his late mother, her collection of wind chimes, each one corresponding to someone who'd died.
The feet story, "Sleepwalking," should not be thrown out with the glove—it's a neat premise, well-executed (with soul, as well as sole), about a pair of feet fed up with their lack of attention who seek revenge by leading the body to which they're attached on a series of dangerous nocturnal adventures. In a similarly plotted story, "Blind Spot," a wife stalks her cheating husband all over town. The title story is from the perspective of a pyromaniac.
My favourite story of the collection was "Mycosis", an unconventional story of women's life-giving force, in which a young woman discovers fungus growing in her bathroom, and its cultivation becomes a preoccupation that takes over her entire apartment and her whole life. A simple flower garden turns predatory in "The Lilies." Sex gets aesthetic (and inter-planetary) in  "The Still Body is the Perfect Body." In "At Your Service," a woman narrates her sister-in-law her own funeral, and "Vertigo" is the story of a champion diver whose mother's death leaves her unable to leap, for which reason she becomes subject to rigorous scientific examination.
These are stories rife with sharp edges, strange perspectives, and danger lurking in familiar places. Usually weird, and never boring, the fruits of Uppal's talent remain remarkable regardless of their form.