February 1, 2015
Wonder About Parents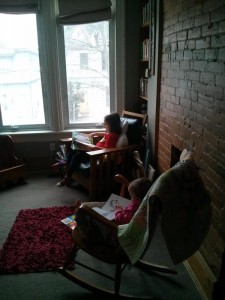 The weekend was unexpectedly quiet, all plans cancelled, and unexpectedly long. Thursday night delivered a stomach ailment that felled all of us, and meant we spent Friday lying down and eating popsicles while a brutal winter wind raged outside, and we didn't really miss it. The children slept for hours after lunch that day, which meant I got to spend the afternoon reading in the tub—such an indulgence. On Friday night, we watched episode 3 of Broadchurch Season 2—we're wholly riveted, even when it gets ridiculous—before finally getting a good night's sleep after missing Thursday's entirely. Saturday was a lot more lying down, and then we watched Gone Girl. This morning we were ambitious enough to go skating, which was wonderful, but it's all still touch and go—we're still only 20 hours since the last time anyone threw up. But other than the sickness and far too much laundry and really only eating bread and butter and saltines, it's been kind of a nice weekend. There is nothing like being ill to make one appreciate feeling better, and nothing like being ill with 2 small sick children to make one appreciate a spouse who is a partner in every sense of the word—for better or for worse.
The whole thing made me think of the story "Wonder About Parents" from Alexander MacLeod's collection, Light Lifting. It's the story about lice, perhaps my favourite in the collection, the one I bring up whenever I'm recalling just how extraordinary that book is. That one scene with the father changing his sick baby's diaper in the truck stop men's room, the shit covered baby clothes he tosses into the garbage, and how his wife makes him go back in there and fish it out again. Because she likes that outfit, and it was a gift from her mother. That's a moment so emblematic of the people parenthood turns us into, the absurdity of these situations. Those nights, those crises. We never think about them when we sign up for any of it.
We could never have imagined. I was thinking about this on Thursday night as I lay in bed sleeping in five minute bursts, interrupted by Harriet throwing up downstairs, Stuart on the floor beside her bed, a pile of soiled sheets and blankets growing up in the corner. I could not sleep because I was hearing strange voices singing, every muscle in my body ached, because I kept having to get up and puke in a bucket, and because I was listening desperately for the sound of Harriet sleeping finally, but she wasn't. (Her door downstairs just opened now, and its squeak has me wracked with anxiety.) Finally at 3am, I went down because I was finished being sick, and Stuart came up to get some sleep. I was awake until 5am beside Harriet but listening for Iris, who woke up then as usual, and then she was sick. And a new pile of soiled sheets was started in our room. By morning (or at least the part of it when the sun was up), we were all sleeping on top of beach towels, those of us who were sleeping at all.
And it occurred to me at several moments throughout that night, that long long night during which the every passing hour brought a little relief because we were that much closer to morning, when I was holding on and holding my bucket as my child cried, thinking, "it really doesn't get much worse than this." It occurred to me it had been remarkable luck and not foresight that 12 years ago I'd met a boy on a  dance floor who would become a man who'd take such care of our ailing daughter in the middle of the night, who'd spend the following day doing our laundry as I lay listless on the couch, even though he wasn't feeling so hot himself. How do you ever, ever know? And what fortune that the whole thing worked out anyway. "You can't tell anything in the beginning… Could go any number of ways."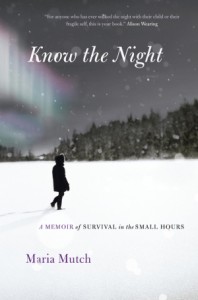 "The present tense. Everything happens here," writes MacLeod in "Wonder About Parents," and this is what makes the whole thing so mysterious, I think. How did we get from there to here? How did we become this people awash in a sea of vomit, these children wretchedly ill in a way I had no idea people could be ill (and now we even know it's totally normal. We go through it a couple of times a year now)? If someone had told me about it, I would have speculated the whole thing was unsurvivable. One of oh so many things you think you could never get through, until you do. I am thinking of Maria Mutch's Know the Night too, and how I never knew just how many minutes there were between midnight and morning until my children born, an unfathomable number. (In Mutch's book, referring to her partner, she writes of "that ingredient vital for love, which can best be described, I think, as conspiracy," which I think is part of what I'm getting at here.)
Everything was always the present tense, which makes it that much harder to understand how it turned into the past. Like the night, it always seemed to be an eternity until it wasn't anymore. MacLeod writes, "The place where you wait for the next day to come."
"We get to choose each other, but kids have no say about the nature of their own lives… What are we to these people? Genetics. A story they make up about themselves." –from "Wonder About Parents"
"Wonder About Parents" is a story whose workings are fascinating, and I would like to write about it in a more in-depth way when I'm not recovering from illness and the loss of 1.5 nights of sleep. Though I also suspect it's a story whose wonders are mostly firmly grasped from my current state of mind, if not wholly articulated. The story begins with a couple picking nits from another's heads, their household under siege. "It's the third week".  There is so much laundry. "Can't go on forever./ No."
The fiction is part entomological investigation of the mighty louse. "The history of the world indexed to the life of an insect." The parasitic relationship between louse and human is vaguely connected to the parent/child relationship, something persistent in the sheer determination of louse to be, related to that of the human, of the human's drive to reproduce. The force of life also bringing with it death—typhus is transmitted by lice, MacLeod's narrator tells us, and killed 30 million people after WW1. And then a scene with the family lining up to be inoculated for swine flu, all that hysteria, fights in the line-ups that started at 4 in the morning. What we do for our children, the ridiculous scenarios. How fragile is our safety, but still we all go forth.
And then before the children, achronological, but all still present tense, and fertility struggles. You never do imagine the care with which you might end up examining your vaginal mucous, all for the eventual outcome of sailing on a  sea of vomit, tucked into bed beside your finally-sleeping child wishing that you hadn't bought her a $45 foam mattress (though the vomit would ruin it anyway, so perhaps it was all for the best).
"Desired outcomes. What we want is when we want it. No way to connect where we are and where we were. This is the opposite of everything we've ever done before."
There are the worst nights, hospital visits with babies a bundle in your arms. A reference to the DDT that solved typhus, but dug its way deep into the food chain before anybody noticed. Causing infertility, cancer, miscarriages. "But life adapt. They go on. Become resistant. Completely unaffected by DDT now. Not like us. Trace amounts of it in every person's blood."
The baby has kidney disease, "a congenital abnormality." We've seen this girl already in the shower receiving her lice treatment: "A scar on our daughter's stomach from before." So we know which way this story will go. But MacLeod leaves us here, in the hospital, the couple only four months into parenthood, and already they've entered its darkest places. And how they lean on each other, how they need one another. They are everyone they've ever been, squeezed together in an uncomfortable vinyl chair. Wedded to all of human history.
"Darkness in the room. Our baby makes no sound. Only the bulb from the machine now. Inscrutable purple light flashing on the ceiling. Like a discotheque, maybe, or the reflection of an ancient fire in a cave."