January 23, 2015
On rereading Ellen in Pieces, and other things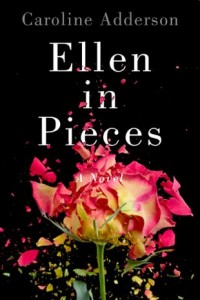 My book club met last night to discuss Ellen in Pieces, which I'd been looking forward to because I've got feelings about this book. I reread it last weekend, and was delighted to find I enjoyed it just as much and came away with a deeper appreciation of the novel's structure. It's a novel that's slightly disorienting to encounter the first time, but to read it again, you get to look around a bit more. It was fascinating to see signs of Ellen's eventual fate embedded in the text from the very beginning. I read the chapters from other characters' perspectives differently too—the first time, I'd been consumed by trying to figure out how these other stories related to Ellen's, whereas this time, the connections seemed stronger and more straightforward. The most devastating moment in the whole book continues to be the ending to "Ellen-Celine, Celine-Ellen", which I've read for the third time now and the effect hasn't lessened at all. Anyway, this time the novel seemed a bit easier to get lost inside and wander around a bit it. It is definitely the kind of book that is made for rereading.
Plus, the book club liked it too, and it made for interesting discussion. And we got to eat blintzes, which I made because they're in the book, even though I didn't know what they were. It turned out they were delicious. Good to know.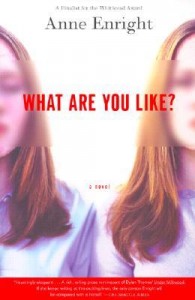 What else have I been reading lately? I read Anne Enright's 2000 novel What Are You Like?, which had been sitting on my shelf for awhile. I started off in love with the stunning sentences, and then grew frustrated with the novel's fragmentation (and I think I get bored with most novels at the point at while the mentally ill protagonist starts carving symbols into her legs). But then it unfolded in the most marvellous conclusion, and I saw that I should have had faith in Enright all along. The story of one woman's unravelling via her pregnancy reminded me of Emily Perkins' A Novel About My Life, which I feel as though I need to read again.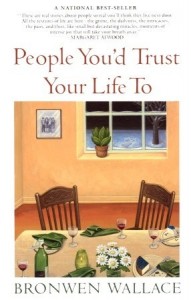 Speaking of reading again, I pulled Bronwen Wallace's People You'd Trust Your Life To off the shelf, which is a book that everyone should return to again and again. I'd read part of it while I was waiting for Iris to be born, so now the book is all tied up in that kind of nostalgia. I think that the book was a strong relationship to Adderson's Ellen in terms of its masterful depiction of actual life (which happens to belong to a woman) and flawed, larger-than-life characters. But it also occurred to me how somebody ought to write an essay on Bronwen Wallace and Grace Paley as literary companions. Their works speak to each other, and are also unflinching in their politics. Good at titles too—I think that Wallace's title sounds like a Paley one. And that Faith Darwin would have had a lot to talk about had she encountered any of Bronwen Wallace's characters in the playground.
What else? I am knitting balaclavas for my children, and enjoying knitting and purling so very much. We are watching season 2 of Broadchurch. I loved Andrew Pyper's new novel, The Damned, coming next month. And I'm now reading Thomas King's A Short History of Indians, and finding it curious, fascinating and horrifying. It's a really peculiar book. So glad to be reading it finally.