January 14, 2015
Her by Harriet Lane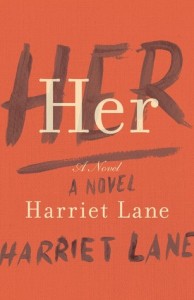 UPDATE: I can't believe I forgot to note the extraordinary ends to which Lane uses the sinister implications of classic children's literature, including Goodnight Moon and "James James Morrison Morrison Weatherby George Dupree". So very good.
There is such a descriptor as sippy-cup sinister.
"I'm reading a terrifying book about a woman with a newborn," I told my husband, who went pale then, because a woman with a newborn is the most terrifying thing he's ever known.
"I'm tired of female pain and also tired of people who are tired of it," write Leslie Jamison in "Grand Unified: Theory of Female Pain," from The Empathy Exams, and I sometimes feel similarly about the reading of the burdens of motherhood.
It's a burden documented in vivid detail in Her, the second novel by journalist Harriet Lane. The novel is a mash-up, one scene after another presented from two points of view. One from Emma, recently a mother of two, in her late thirties, struggling to get the stroller up the steps as her three-year-old clamours for her attention, and the baby cries, and she contemplates her life, wondering where her once-self—a successful journalist, happy and carefree—has got to. And then the other, from Nina, who spies Emma from a distance, knows her from long ago, and becomes determined to work her way into the other woman's life to enact some form of revenge.
To Emma, hoever, Nina—a successful painter, her own daughter nearly grown—is a saviour, always turning up at the right time, offering Emma exactly what she needs, providing a glimpse of the world outside, of the life she'd like to have. Nina is a respite from the drudgery of a schedule Emma describes as full of tasks all both so urgent and tedious, breaking the day into useless pieces, rendering the whole thing as just scraps. But why is Nina so interested in her? It's a nagging question, but one that Emma pushes to the back of her mind, which is already overwhelmed by lack of sleep, stress, financial worries, marital strife, and general ennui. She's so vulnerable, which Nina recognizes instantly, and realizes she can prey on.
Which makes Her so compelling, so beyond those other narratives which tire me whose only virtue is their honesty, is that the truths revealed about new motherhood are just the starting point. From here, Lane has created a psychological thriller so convincing in its reality, so ominous in its mundanity, so sippy-cup sinister in a manner I last recall reading in Emily Perkins' excellent 2008 book, A Novel About My Wife.
Nina gets closer and closer to Emma, welcomed into her home, caring for her children, and while we know along she has nefarious intentions—presented in the alternating chapters which, like Emma's, are written in first-person—we don't know why she's out to exact revenge from Emma, who doesn't remember her at all. We don't know either which form her revenge will take, though as the novel progresses, indicators emerge, signs and signals that are so terrifying, all hurtling towards  the novel's very end, which is completely and utterly devastating.  Not to mention amazing. But don't say I didn't warn you.
It's a page-turner, but the reader will be slowed by Lane's prose, the pitch-perfect imagery and descriptions, which are to be savoured. By the nuance too, suggesting the motherhood (and everything) is a many-sided reality after all. And the reader will be chilled by Lane's suggestion that danger lurks even in the safest of places, that the most heightened maternal vigilance might never be enough.