January 13, 2015
Reading Green Knowe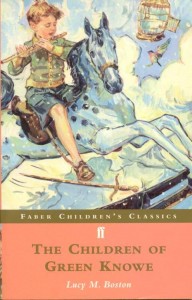 Throughout November we were reading Tom's Midnight Garden at bedtime, which is one of a handful of favourite books from my childhood that hold up just as well. We all enjoyed it, though perhaps Stuart the most because it was his first encounter with the book. I was pleased because I think Harriet mostly grasped the time travel storyline, or some of it. I had read her Margaret Laurence's The Olden Days Coat two Christmases ago, and she didn't understand it at all. "There's this thing called the present," I was trying to explain, and she was baffled. Interesting too because while she now understands the concept of time, she actually remembers none of that time—anything that happened when she was three and back is kind of lost to us. We reread My Father's Dragon last week, which I read her when she was three, and she had no recollection. I wonder if you have to have your own history before you understand that there is such a thing as history, and if a prerequisite to having a history is having begun to lose it.
Anyway, Tom's Midnight Garden was lovely, and meaningful not only because I loved it as a child, but because it was the second book I read after Harriet's birth, so to bring back memories of that time with a girl who seems so big now was remarkable. That she's getting the time travel thing also means that we will be able to read Charlotte Sometimes by Penelope Farmer, which I am so looking forward to—I want to get the New York Review Edition. And at the back of Tom's… was (in addition to an ad to join the Puffin Club, which I kept trying to join as a child, but I was sending in offers from the back of decades-old books so it never worked) listings of other Puffin books we might like. Including Lucy M. Boston's The Children of Green Knowe.
I never read The Children of Green Knowe as a child, but received it as a gift about ten years ago, and read it then. I didn't really get it. But I kept my copy of the book because it had been a gift, and because so many people are crazy about it—I decided there had to be more to it. It seemed in keeping with some of the themes of Tom's Midnight Garden, the Puffin people thought we'd like it after all, and it's a Christmas book and this was at the beginning of December. So I proposed we read it en-famille, post-Tom and we did, and it was a remarkable success. For me, in particular. For it seems a book that was meant to be read aloud, and in pieces, rather than plowed through like something with a plot. Reading it this way, I was able to appreciate its magic, its weirdness, and we were all quite struck by its atmosphere.
And it reminded me of the thing that children's books have taught me about literature and books in general—that there is no such thing as "the text". The text is ever changing, and its effects depend on myriad factors—the weather out the window, the plushness of a chair, whether or not the reader is awaiting test results. Children's books, which we read over and over again like no other kind of book, have taught me to ever-undermine my (and any) literary authority. The number of times I've flipped through a picture book dismissively, and then sat down to read it with Harriet or Iris, and their appreciation has to directed me to what the book is all about, to what I may have missed the first time. There are bad books for sure, but so often there are great books but I'm just reading them wrong. So what a pleasure is rereading then, for the chance to finally get it right.