January 6, 2015
Vacation Reads Part 1: Marilynne Robinson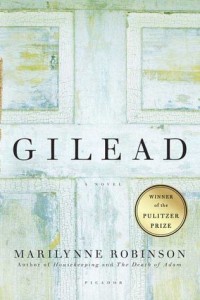 And now I am going to lay down a path, book by book, of how I made my way through a vacation packed with spectacular reads. It helped that I went on reading vacation a week or so before my actual vacation, abandoning myself to the task of reading all Marilynne Robinson's novels in order. I really loved Housekeeping, and was taken by its magic and gothic sensibility. I was wary of Gilead though, as I always have been. It just didn't seem like a book for me. But while I found it slow to start, I eventually came to appreciate it very much, and found John Ames' worldview so admirable and beautiful, but then I was wary of that too—was I reading this like an old-age New-Age self-help guide to understanding how the world is? It is possible that I actually read all novels this way, but Gilead was so conspicuously in its, well, preachiness. Which I don't mean as a criticism, actually. John Ames would have been an extraordinary preacher. But it is okay that I was underlining lines like they were delivered by a deity? Doesn't this make me not far from someone who puts post-its in Chicken Soup for the Soul? So I am conflicted, but then so is Ames, which is the power of his point of view, actually. There is much subtlety at work here. That makes me nervous too. Anyway, I liked this book.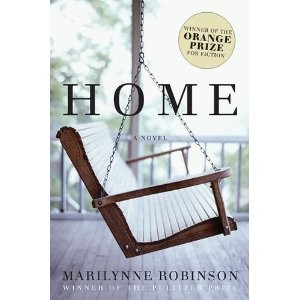 I moved on to Home, which was a reread, and which turned out to be the book I liked least of the lot. While I did find it interesting to read the two books side-by-side and see how differently characters' behaviour was interpreted by the others than what they'd intended (and the idea that came to me while I was reading KD Miller's All Saints last summer: that we are all figments of one another's imaginations after all), I found Home to be a bit agonizing in its repetitiveness and melodrama. Due to being on vacation and sick, I watched the stupid by entertaining movie, "They Came Together" starring Amy Poehler and Paul Rudd as I was reading Home, and maybe it was partly the head cold, but when I picked up the book again, it similarly seemed to be a spoof of sentimentality, just one darn thing after another. I don't know if an Amy Poehler vehicle has ever been used to critique a Marilynne Robinson book before, and maybe this is my one real act of originality in this life. It is possible that reading Home and Gilead so close together wasn't a great move after all, and perhaps I was just bored of the storyline? I do find it interesting that Gilead won the Pulitzer and Home won the Orange Prize, and I'm thinking, come on women's fiction prize, you've got to up your game.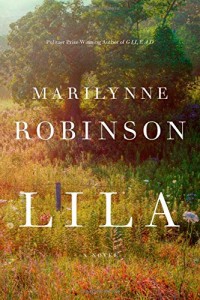 And then I read Lila, and I am so glad that I read all the others before because they really are a cycle, bringing us back to womanhood, daughterhood, motherhood, transiency, and a certain wildness. If The Grapes of Wrath married Gilead, this is what they'd come up with. I think what I like about Lila and Gilead over Housekeeping is that both are so engaged with the world instead of apart from it, and engagement does not require certainty. Ames and Lila really are such perfect companions, even if gaps in language and emotion keeps this from being articulated from one to the other, which is certainly a kind of faith. I suppose any marriage is.
And I started underlining John Ames' sermons again: "Life on earth is difficult and grave, and marvellous. Our experience is fragmentary. Its parts don't add up. They don't even belong in the same calculation. Sometimes it is hard to believe they are all parts of one thing. Nothing makes sense until we understand that experience does not accumulate like money, or memory, or like years and frailties."
I think I will definitely have to read Lila again, this time while not so doped up on Marilynne Robinson, because it's certainly a novel that deserves to be considered in its own right. Confession: I didn't adore it. I don't think I've quite cracked its surface yet. I also find myself at a distance from it, as I do Gilead. Both books find me unsteady as a reader, but I think that is a good thing. So I will return to it, which is the best thing about books, how you can do so over and over.
Now stay tuned for Part II of my Vacation Reads which includes (get ready for it!) the books I got for Christmas. So good.