December 18, 2014
Unlikely Christmas: Graham Greene's The Little Steamroller
I don't know that I've ever come across a more unlikely Christmas tale than Graham Greene's The Little Steamroller, his fourth and final picture book.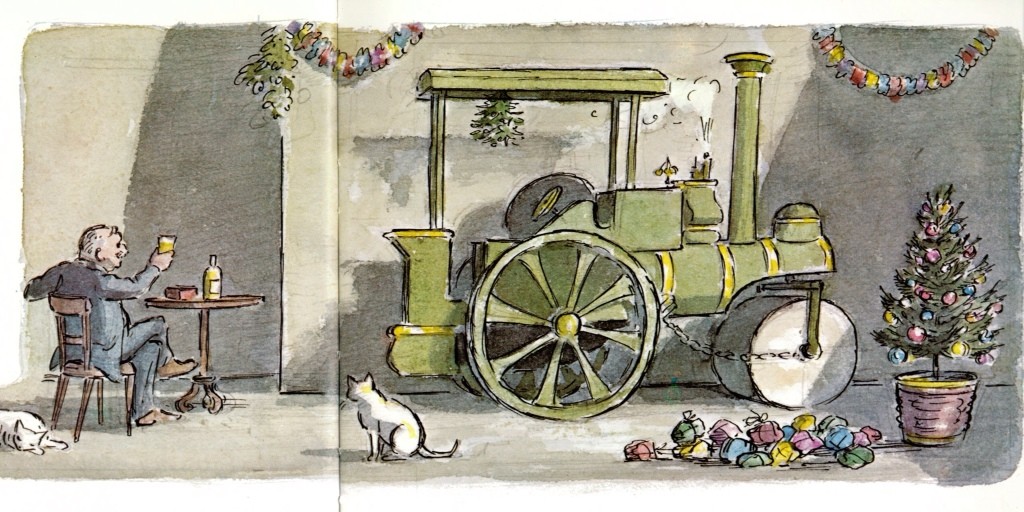 Harriet was a big fan of The Little Horse Bus awhile back, and she liked The Little Train too, but it's true that The Little Steamroller is perhaps the least inspired of the lot. It's worth reading for its absolute strangeness though, for being a distilled version of a Graham Greene novel. The Little Steamroller works clearing the snow at London Airport, and ends up foiling a diamond smuggling plot by The Black Hand Gang, a nefarious pack of smugglers operating out of Africa. All this takes place over Christmas, which the Steamroller is looking forward to, because he gets very few holidays (one of which is the August Bank Holiday, and it always rained on August Bank Holiday) and because Bill Driver will wrap up his nuggets of coal in Christmas paper.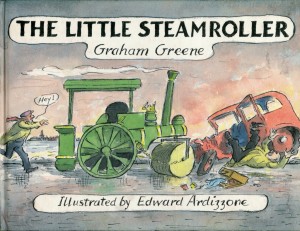 Greene's picture books were originally published in the 1940s and 1950s, illustrated by his mistress Dorothy Glover (the projects were intended to provide her with an income, which I think makes these books delightfully unwholesome in origin; Glover would later end it with him when she discovered there was a third woman in the mix). Our copy is one of the 1970s' reissues, with illustrations by Edward Ardizzone, but even with this "update", the book has a decidedly vintage feel. I don't suppose it helps any that our copy was purchased at a yard sale, and appears to have been stored for a time in a flooded basement.
Learn more about The Little Steamroller and other Graham Greene picture books at Ariel S. Winter's blog, "We Too Were Children, Mr Barrie," where an important question is raised but left unanswered: why ever was a steamroller being used to clear snow anyway?