December 11, 2014
If you need me… Marilynne Robinson Update 1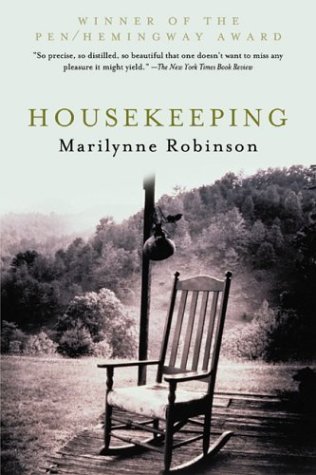 If you need me for the next couple of weeks, I'll be reading nothing but Marilynne Robinson.
For no good reason, except that I want to, and I think it will be good for me, and I have a bit of space for a focussed reading project, which I'm so pleased about, because I feel as though my reading lately has been scattered and something of a mad scramble.
I first reading Housekeeping perhaps in 2006, and here's my shameful confession: I didn't like it. I had been expecting something light and straightforward from the novel, which was not at all what it delivered. I was also not as smart a reader then as I am now (and it is my hope hope that I can continue to say this about every decade that passes in my reading life.) When I read Home in 2008, I was much more appreciative, though I don't remember anything of the book now. Plus, I missed Gilead in the middle. I wonder now though how Robinson's work changed between her first and third novel—is there a reason beyond my improved sensibility that had me like the latter book? And now the world has been imploring me to read her latest book, Lila, which reviews have noted as having thematic connections to Housekeeping, a cyclical structure to all four novels. So this is why I've decided to go back to the beginning.
I'm about halfway through Housekeeping now, and so pleased with what I've embarked upon. The book is unbelievably strange and really quite difficult—sentences that require much concentration to make sense of (though following their twists is such a pleasure). Part of the problem is the complex sentences used to described really odd images—that strange house with its sloped floors. I can't visualize the trapdoor at the top of the stairs no matter how hard I try. Perhaps another trick of the book is that its difficulties are subtle, just under the surface. They're a little bit like traps. It's so Biblical too, but in a contemporary setting, without male characters—we're not accustomed to this.
But what pleasures we reap from careful reading. Really beautiful, inside-out sentences that reframe the familiar in surprising ways. I loved, "And then the library was flooded to a depth of three shelves, creating vast gaps in the Dewey decimal system." And that image of the sodden curtains' weight bending the curtain rod. There is something slightly Shirley Jackson-ish about this household, which reminded me of We Have Always Lived in the Castle. No one there is quite right, but the terms of the characters' difference is never quite clear. An anxiety underlying everything that is never really explained—the reader intuits. And I am impressed by the fleeting descriptions of motherhood: "She had always known a thousand ways to circle them all around with what must have seemed like grace."
And oh, sentences like, "There would a general reclaiming of fallen buttons and misplace spectacles, of neighbours and kin, till time and error and accident were undone, and the world became comprehensible and whole." You could think on that one over and over again."
I came across a passage when I was reading last night:
Every spirit passing through the world fingers the tangible and mars the mutable, and finally has come to look and not to buy. So shoes are worn and hassocks are sat upon and finally everything is left where it was and the spirit passes on just as the wind in the orchard picks up the leaves from the ground as if there were no other pleasure in the world but brown leaves, as if it would deck, clothe, flesh itself in flourishes of dusty brown apple leaves, and then drops them all in a heap at the side of the house and goes on.
And it seemed so familiar; I was sure I'd read its echo recently. And finally I realized where it was from:
The dead live on in the homeliest of ways. They're listed in the phone book, They get mail. Their wigs rest of styrofoam heads at the back of closets. Their beds are made. Their shoes are everywhere.
Which is altogether different, but not altogether altogether—I mean, those shoes? It's from Elizabeth McCracken's Thunderstruck and Other Stories, which Housekeeping recalls to me in more than a few places.
Anyway, I'm looking forward to Chapter Six.