December 3, 2014
Toronto ABC by Paul Covello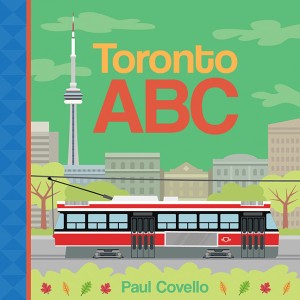 My personal belief is that a household can never have too many ABC books, and so certainly there's room in a city for more than one. I've long been zealous in my devotion to Allan Moak's A Big City Alphabet as the definitive Toronto ABC, but now Paul Covello's new book has arrived and won me over. Because it's gorgeous, and so meticulously detailed that it reminds me of Patrick Cummins' and Shawn Micallef's Full Frontal TO in its devotion to documenting Torontoniana.
Case in point is the windows on the far left and right buildings from "K is for Kensington Market," windows which are instantly recognizable as Toronto windows, essential to its architecture: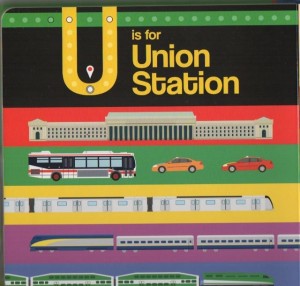 I also love the amazing design, best typified in U is for Union Station in which the U is the bottom of the University/Spadina subway line:
This is a book that will appeal to children, who are the biggest transit nerds of us all, with its trans and taxis and busses, and Covello caters to this audience in particular with images of TTC tokens and transfers. This same audience will also delight in the image of the dinosaur skeleton on R is for ROM, alongside the mommy and some residents of the museum's famous Bat Cave (plus a couple of school busses parked outside the museum itself, natch).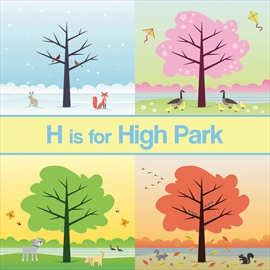 It's a more updated version of the city than Allan Moak's, though some consistencies remain—X is still for the Ex, and Z is probably always going to be for zoo, and so it should be. But Covello makes D for the Distillery District, which didn't exist when Moak created his book 30 years ago, and neither did Y for Yonge Dundas Square, and J is for the Junction, which wasn't so celebrated back in the day.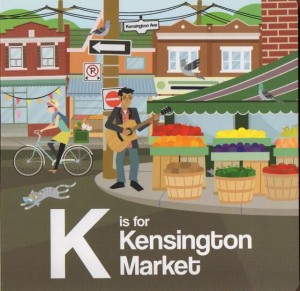 Covello's is also much more specific in its locations, with parks and markets identified. He dares to show fish jumping in the Don River in V is for Valley (with a subway going by overhead on the Bloor Viaduct), the city at its most beautiful. He also skips the nude beach on I is for Islands, but gets points for including the tiny cottages on Wards' and Algonquin Islands.
"I love TO" is the banner being towed by an airplane on the T is for Tower page (on which the book must be turned sideways to take in the full 553 metres of the CN Tower, once upon a time and forever in my heart the world's tallest freestanding structure), and the reader will not be able to avoid a similar emotion as she flips through the cardboard pages in this durable, beautiful book, which proves as much fun to explore as the city itself is.