November 27, 2014
Eating Habits of the Chronically Lonesome by Megan Gail Coles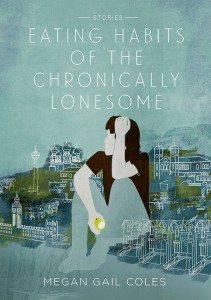 My reading rut from last week was successfully defeated by the books I picked up at the Toronto Book Fair, in particular Megan Gail Coles' Eating Habits of the Chronically Lonesome, which was the book I bought because I kept seeing other people walking around carrying it. In some crowds, such a method of book selection could steer one wrong, but not in this one. The book was fantastic, a collection of short stories about Newfoundlanders at home and away. The characters in the stories have lives that are linked, but the connections are loose, and stories take place across a long period of time, so that the connections vaguely inform one another rather than being integral to the collections' construction. They do give a wonderful sense of these characters' lives off the page being rich and ongoing, the stories themselves just standing in for a moment in time.
Coles, whose background is in theatre and playwriting, is the real thing. Deft with prose, gifted with voices, writing from a wry, wise and empathetic perspective, she is undoubtedly part of the established tradition of fine Newfound short story-writing.
In "There are Tears in This Coconut", two fractious sisters take a trip together to Thailand following the eldest's divorce, a lifetime of resentment and anger acted out on the part of each of them.
"Everyone Starves to Death As I Eat Here" begins with the shining line, "Damon thinks, this, everything, is Brenda Hann's fault for making him believe her pussy was made of gold."
And then a few pages after, "The reason Garry did these things was 'cause he couldn't afford any better. Half of what he earned over at Pretty Paws was carted off to Newfoundland. Child support for an autistic kid he had with Slutty Marie down Gilbert Street, this the result of a one night stand./ Have you ever heard a sadder story, Dame? I mean, really? I barely poked her. We weren't even lying down. It's like her body sucked me sperm right inside her that night, vacuum cunt on her. Don't ever have a go at the neighbourhood whore in an alley. Nothing good will come of it."
And then in the next story, Nigerian immigrant to Newfoundland working at Tim Hortons woos a local woman and thinks his life is made, the story ending on the suggestion that this is perhaps not the case. Time telescopes in "A Sink Built for Small People," which is next, in which a couple moves to Korea to teach English and their relationship (predictably) falls apart. A new mother laments what's become of her life in "I Will Hate Everything, Later."
A widower wonders about his shaky domestic life with a new partner: "I think washing up the supper dishes shows I care. I always flushes the toilet three times. And I knows that's more than Father ever did. She says that's gross. Not like in her books. That my love is vulgar. Not refined. Not civilized. I'm rural in my heart. She plans the birthday party she'd like. I does the same. We always ends up with the wrong birthday party. And we aren't young."  We always ends up with the wrong birthday party—isn't that some kind of amazing definition of a tragedy?
A woman navigates the terrain of a new life, after breaking up with the man she'd thrown away her twenties on in "This Empty House is Full of Furniture." Another contemplates the circumstances that led her to homelessness and vagrancy in "French Kissing is For Teenagers." "Single Gals Need All Wheel Drive" is one of the best stories I've ever read about a character with cancer. A Haitian immigrant to Montreal plots a future with her dodgy landlord in "There's a Fish Hook In your Lip." "Ultimatums Grow In This Wild Place" returns us to first story, this one written from the perspective of the divorced sister's ex as he prepares to end their marriage (and have her finally face the fact that he's gay).
And then "A Dog is Not a Baby", which is simply the thoughts going through a an elderly mother/grandmother's mind as she waits for the phone to ring, for one of her children or grandchildren to call: "If she starts thinking on how the phone never rings now, she won't be able to be conversational when it finally does. Instead, she'll respond with a series of grunts. Maybe make an off-handed remark on how she might as well be dead. Tiffany will feel guilty, her mother Margaret won't even notice, and Joss will say, it's a wonder anyone calls her at all. / What would anyone want to call you for? You never got anything pleasant to say sure."
The stories in "Eating Habits of the Chronically Lonesome" are also linked by references to food, to hunger and indulgence, flimsy plastic forks and years ago when spinach was rare. Vivid, mordant and moving, they're about connection and disconnections, and the ways in which we hurt and heal ourselves, and each other.