November 18, 2014
For Your Safety Please Hold On by Kayla Czaga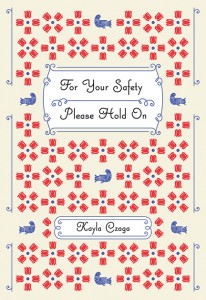 I've written about how I'm learning to be more patient with poetry, but I still relish the experience of a poetry collection I find devourable. Kayla Czaga's remarkable debut, For Your Safety Please Hold On, begins with "Mother and Father," a series of poems that journey through a particularly specific set of family albums. Lines like, "My father is more like a poem than most poems/ are. He once tucked a living loon into his coat…" from "Another Poem About My Father." A narrative arc emerges—the father is an immigrant from Hungary, the mother suffers from serious health problems, and the edges are blurry, but the fine details so clear.
In "The Family," the poet half-steps away from biography to explore family archetypes in the second-person. "Snapdragons, wild garlic, her loose arms/ hugging closed her cardigans, touring/ you around her garden. You visited her/ for two weeks each summer. How strange/ you must've seemed, taller every time,/ a girl perhaps she hardly recognized/ except for her daughter's eyes planted/ into your face…" from "The Grandmother." Or "The Drunk Uncle": "wears the same old skill T-shirts for thirty years."
The collection veers away from narrative in the next section, "For Play," though we're still in the same nostalgic terrain (an entire poem inspired by Math Minute assignments!) but the poems are less concrete here, the words the point more than the story they tell. For your safety please hold on, indeed.
And then in "Many Metaphoric Birds," they take flight, philosophical realms, and I don't really get it, but that's okay.
It's a really wonderful collection.