November 9, 2014
Mr. Jones by Margaret Sweatman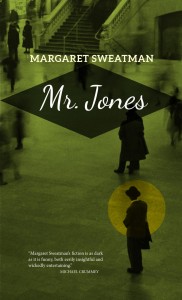 So on Thursday night, I was at the Canadian Children's Book Centre Awards, sitting up the in the balcony (because the seats on the main floor had been filled while we were still out in the lobby getting that one last glass of wine), and the program was great—wonderful books celebrated, Shelagh Rogers was the host—but there I was reading a novel. Which is a shameful confession, as usual, my complete and utter failure to be in the moment, but what you have to understand about the moment was that I was on the final 100 pages of Margaret Sweatman's Mr. Jones. A spy novel, no less, intrigue upon intrigue—and upon even more intrigue by that final stretch. How was I supposed to be doing anything else? And something more to understand: this isn't a small book. A 500 page thick hardback, and I brought it in my purse. Which tells you everything, really. Mr. Jones is an electric, compelling, scintillating read.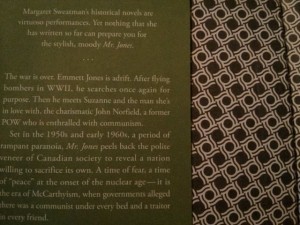 Ok, it's 500 pages, but these are small pages—perhaps a bit too small? 500 narrowish pages are tough to get a grip on, so I dropped the book a few times. It was hard to hold open with my feet. (Does this count as legitimate criticism?) Apart from these niggling details, the book is of stunning design, so gorgeous. Check out the end papers. The prose just as appealing from an aesthetic point of view, all comma splices and curious sentences. The effect of the book as a whole slightly dizzying, as perspective moves 360 degrees, from character to character, but only in pieces. We never see it all at once until it all comes together at the end. Hence the last 100 pages, and my furtive reading in the auditorium balcony in the dark.
It's a period piece, the spy novel ala Graham Greene, Our Man in Havana. Emmett Jones is Canadian, a World War Two Bomber Commander disillusioned by his wartime deeds and adrift in post-war Toronto. Attending university, he finds himself attracted to John Norfield, a charismatic figure with Communist sympathies, in which Emmett too becomes embroiled, partly out of a need to belong to something, and because of how he is drawn to Norfield (and Norfield's sometime girlfriend, Toronto deb Suzanne).
We first meet Jones in 1953, a civil servant in External Affairs, post-Gouzenko and the Cold War (and McCarthy) heating up, and he's under investigation with the RCMP for possible Communist connections. Emmett is now married to Suzanne, with a young daughter, and Norfield is a distant figure in their past—or so the Jones' pretend as they attempt an idyllic 1950s life. But there are complications. Jones had fathered a son in Japan, where he was stationed in the late 1940s, and his own background (born and raised to Canadians in Japan) makes him a mysterious figure in the Civil Service, particularly as troubles in Vietnam are beginning and all things Oriental are viewed with suspicion (Asia seemingly a monolith vulnerable to to a Communist sweep). Suzanne too has trouble fitting into a cookie-cutter life, her subversive photography revealing her interests in a way that won't necessarily be helpful for her husband's career.
And there are other matters we see, as Sweatman moves us back and forth in time, through the 1940s and 1950s, when politics were complicated and nothing was ever quite as it seemed. There is no whole truth, we begin to understand, but only parts of a truth, and they come together to form a puzzle whose final pieces are harrowing and powerful. A Cold War spy novel with a Canadian bent—and a beautiful one to boot. A rare bird after all, Mr. Jones is, just like Jones himself is, perplexing, enigmatic, mysterious, and so intriguingly aloof.