October 21, 2014
All the Squash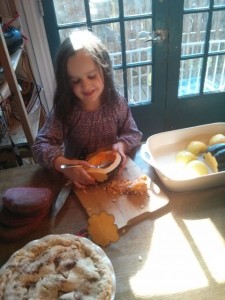 Oh, so little sleep (Iris has a cold and is getting molars) and three part time jobs means that my mind is scattered this week, but I want to take a pause and write about squash. It's partly the time of year, and also because brand new cookbook The Everyday Squash Cook  entered our lives, but no matter the reason, we are squash obsessed. Our Thanksgiving was made rich with acorn squash pie (see Harriet cleaning out the seeds, which we later roasted with the recipe from The Everyday Squash Cook) whose recipe I invented by mistake, but it turned out gloriously—I roasted the squash with the spices and butter in it, and then baked it all in an oatmeal crust. We also had this delicious Roasted Apple and Acorn Squash Soup and it was as easy to make as it was wonderful.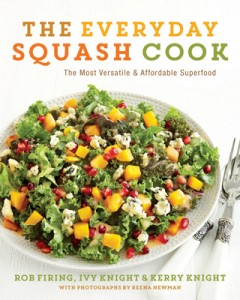 The squash that continues to challenge me is spaghetti—I don't buy those recipes pretending the strands are pasta, and neither do my children. It's okay roasted, but there is so much and the kids won't eat it, and I don't like it that much. We receive them often in our organics delivery, however, and I think we may have finally found the solution—a spaghetti squash soup recipe from The Everyday Squash Cookbook, featuring coconut milk for maximum deliciousness and the strands do indeed pass as noodles in a soup. So good.
A mysterious squash turned up on our delivery last week. The Everyday Squash Cookbook has a squash identifier, but I couldn't find our mystery squash. So I turned to this rather nifty Winter Squash Visual Guide to discover it was a Delicata Squash. I roasted it according to this recipe to learn another thing—that Delicata Squash is the most delicious squash ever.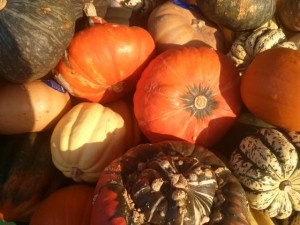 More squash? We made Butternut Bacon on the weekend from TESC (you can see the recipe here) and it blew our minds. Easy peasy and it cooks in 20 seconds. And then we were left with a whole bunch of butternut squash, so I used a vegetable peeler to thinly slice it, and made a "pizza" from those slices, inspired by a recipe in Tessa Kiros' Apples for Jam: mix slices in a bowl with olive oil and flour until slices are coated, then turn onto a pie plate and bake for about an hour. Top with tomato paste, oregano, and mozzarella cheese and bake for 10 more minutes. It's so good, though Harriet wouldn't eat it, but that's not much of an indicator of anything.
One of my favourite squash recipes (which Harriet does eat) is this ridiculously easy risotto that requires no stirring because it bakes in the oven. I usually use butternut squash and it's very good.
Tonight we're looking forward to trying the Squash/Sausage/Rigatoni recipe from TESC. I am quite sure it will prove delicious. Check out this recipe for Butternut Brownies, and also this article on squash as one of "Canada's heritage foods."