October 12, 2014
Best Book of the Library Haul: You'll Soon Grow into Them, Titch by Pat Hutchins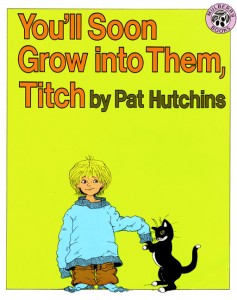 I love Pat Hutchins' illustrations, their slightly ugly 1970s aesthetic. (Her book Bumpity Bump was the very first Best Book of the Library Haul, way back in 2011). And apparently Titch was part of a series, though You'll Soon Grow into Them, Titch is the first of it I've encountered. (Titch was also subject of a TV series in the UK with the most poorly sung theme song in the history of music—has one voice ever been so flat?).
From page one, this book delighted us, poor Titch with his pants so absurdly small, his father with the waving teacup, the knitting and the cat.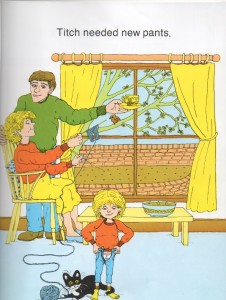 Titch's siblings' solution to his sartorial woes is to pass down their clothes, in which poor Titch is swimming. Any complaints are dismissed: "You'll grow unto them, Titch!" Until the matter gets entirely ridiculous and Titch's father consents to take him to a department store for some new clothes of his own—that actually fit.
It's a good story, but my favourite thing about it is the story going on in the background, the trees, garden and mama's belly all, little-by-little, burgeoning with new life, the narrative of one boy's growth linked to the whole wide world.
It ends with a tidy, if slightly evil resolution. Titch decides to foist his own old clothes on the newborn baby who, of course, does not fit into them. But no matter, decides Titch, finally coming into his own, the baby of the family no more: "He'll soon grow into them."