October 11, 2014
The Freedom in American Songs by Kathleen Winter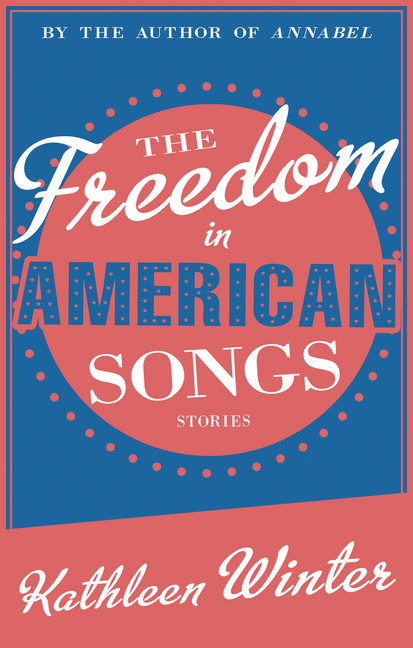 In the latest issue of Quill and Quire, writer and editor John Metcalf writes of the short story that it "does not translate us to another world; it drives us deeper into this one." Depth being the object, rather than anything sweeping. As a reader, an advantage of the short story over the novel is one can read it once, and then promptly read it again, "read it again" being the best advice to anyone complaining about a short story being over too soon, about being left wanting to know what happens next. That reader so intent on what happens next, it might be suggested, is focusing on all the wrong details—what's outside of the story rather than what is within. It's a curious perspective. But I understand it, in part.
I understand it, in part, because I too like sweeping, especially when I'm turning the pages of a book. The short story collection often lacks momentum, its stories not necessarily meant to be read one after the other, each one considered singularly instead. But it's a book after all, and its service then is less for the reader than for the stories themselves—a thoroughly worthy mission, to deliver them from ephemera. And deliver them to the reader too, yes, but we like one page to lead to another. An unlinked short story collection can be a bumpy road, so it helps when the stories are good, as is the case of The Freedom in American Songs by Kathleen Winter (and edited by John Metcalf, no less).
My favourite story in this collection was "Flyaway", a bizarre, twisted story of motherhood from the perspective of a woman who is not a mother and therefore has a most objective point of view on the subject, her objectiveness not entirely undermined by the fact that she deranged. I also loved "Every Waking Moment", a love story told outside the lines, and so are most of these tales, actually.
"The Freedom in American Songs" recounts a long-ago love between a high school boy and his flamboyant classmate, a story full of yearning and which ends in heartbreak. "Of the Fountain" concludes with a similar gut-punch, a woman's fascination with a neighbourhood eccentric causing them both trouble, and teaching none of the lessons the story's beginning supposes. "You Seem a Bit Sad" comes from the same kind of point of view, illuminating the strange intimacy that arrives between people who brush past one another in day-to-day life, those small reprieves from loneliness. In two of "The Marianne Stories" that begin the collection, the title character's loneliness is self-imposed, resulting from her move to a small village whose inhabitants aren't sure of her intentions (and neither she of theirs), and she aches to be among them just  as much as the chasm between them is gaping.
These are stories of misfits, though never for the usual reasons, often for small reasons that stay under the radar. These are stories that start off with remarkable first lines and paragraphs, lines that don't pull you in necessarily, but they make you want to follow them. These stories are steeped in details, page 32 standing out in particular as the greatest inventory of a streetscape that I have ever encountered, right now to knickknacks on a mantlepiece spied through a window with its curtains open. Stories whose narrators' intentions are never entirely pure, these characters standing on the cusp of self-awareness. Stories whose revelations are never the obvious ones, or the easy ones. Stories about the possibility of change, rather than change itself. Stories that each stand on their own, and are difficult to thread together in a paragraph. Or a sentence.
Except that each of them begs to be read once, and then again.