October 8, 2014
California Dreaming at The New Family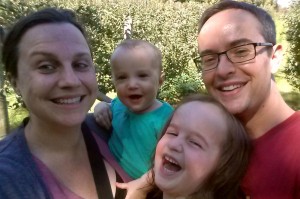 The New Family is a really neat project by writer/editor Brandie Weikle that features all the wonderful ways that modern parents are remodelling family life, a project underlined by the challenge: "I bet we can find 1000 ways to be a family." And I'm so pleased that today, my own family is in the mix, a family whose constitution is not unusual by any means, but I'm glad to tell the story of how our family began with a decision we made in 2008 not to buy a house.
"It was almost Copernican. Because there's an order to the universe: we hook up, we move in, become property owners of an impossibly small space equipped with a windowless den. We wait until that small space acquires enough value that we're able to trade up for a proper home, albeit a starter one. And only then are we ready to start pondering such a thing as the future, to put down roots and maybe even have children."
But we decided to do it another way, and I am so happy we did.