October 3, 2014
30 Years with Anne Shirley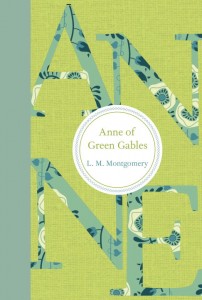 The last time I read Anne of Green Gables was in 2008, when I came away struck by how much it's actually Marilla's story, her own transformation, the softening of her heart. All the things she feels about her adopted daughter but will not say, but she feels them—the narrative articulates the complexity of her emotions. Reading it again now, I laugh at the paragraph from Rachel Lynde's perspective about Marilla's definite ideas about how to bring up children, and how only people who've never had children can ever have these. I also notice how silly Anne is; with all her big words she gets so many wrong (though whether these are actually typos is hard to tell. My edition is appallingly edited)—she's a more realistic version of a 12 year old precocious child than I've ever noticed before.
This time, I am rereading Anne of Green Gables (the book I've been reading and rereading for 30 years now) as I never have before—aloud. It's our current chapter book for bed time, joining a canon that includes the Little House books, Ramona, The Willoughbys, Tales of a Fourth Grade Nothing, Through the Looking Glass, and so many more. When we started reading it, I was surprised to discover I wasn't sure it would work—there is so much description, so many words, in particular huge ones that no five year old has ever heard of. As we read through the first couple of chapters, it dawned on me that I'd come to the book at age 6 or so (first reading an abridged version) after being familiar with the Kevin Sullivan film—all the characters in my mind are precisely as cast therein. Would the story "take" the same without the cinematic precedence, I wondered? But it was the evening that we opened the book and Harriet had remembered the exact title of the chapter we'd left off at that I knew the story was resonating just as I'd hoped it would.
Reading Anne of Green Gables aloud is such a pleasure. So many words, as I said, but I get to say them. I've never had such a feel for the strength of Montgomery's prose, and how effectively she communicates Anne's incessant chatter. Reading aloud too, I get to convey the humour, of which there is so much, and it thrills me when the best jokes are met by Stuart's laughter. Because he's listening too, this being his first time "reading" Anne of Green Gables, as well as Harriet's. He grew up in England, where Anne would be even more foreign to boyhood than usual. So I love that he's enjoying this very Canadian experience, and Harriet too. (Iris spends story time entering and leaving the room, scattering chaos in her wake.) There are so many wonderful parts of the book that I've forgotten about, and when I glimpse an episode to come, I tell them, "Oh, this is going to be a good one." When Anne turned her hair green, and jumping on Aunt Josephine's bed, getting Diana drunk and saving Minnie May Berry, the mouse in the pudding and the lineament cake. The puffed sleeves. She's just about to reconcile with Gilbert, and I absolutely cannot wait. We are enjoying this book so very much.
There is something to this book, which is far more than childhood nostalgia or attraction to a cultural touchstone. Anne of Green Gables is so familiar to us all that it gets written off more often than not, but that's such a mistake. It's a good-enough kids' book, but there is so much going on in the text that a reader doesn't notice when she's young, and even when she's not young. It's a book that's worth a reread every decade or so, at least.