September 27, 2014
Best Book of the Library Haul: I Like Old Clothes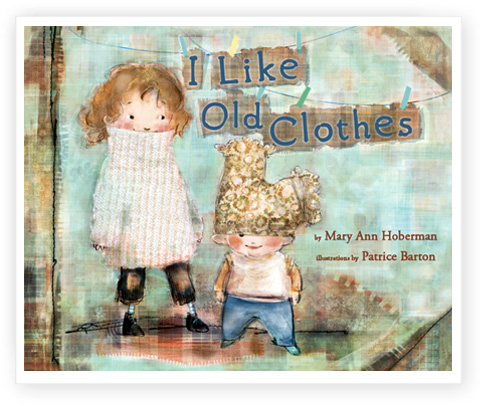 Here is a secret to living well in the city on a salary and a half—we buy all our children's clothes at Value Village. Which is cheaper than even Wal-Mart, and this way we don't have to go to Wal-Mart, plus my children get to wear clothes first purchased by people who valued quality, long-lasting, stylish children's clothing (not Wal-Mart) as much as I do. Everybody wins, but us in particular (and with the money we saved, we go out and buy books).
So I was quite excited to encounter the picture book I Like Old Clothes by the wonderful Mary-Ann Hoberman, an reissued edition with gorgeous new illustrations by Patrice Barton. It's a story about the delights of second-hand clothing and hand-me-downs, the treasures discovered and, most importantly, the stories these clothes carry in their threads about all the people who've ever worn them and all the places they've been.
"'You lived in East Bend, / Blue Sweater,' I say. / 'Just think, you are living / in my town today.'"
It's an empowering thrifter's manifesto, a story that gets kids excited about the economical and ecologically sound practice of buying second-hand. A brilliant antidote to rampant messages of consumerism found elsewhere, and the just the thing to make parents and kids feel good about the choices their family makes.
Check out a video of Mary-Ann Hoberman reading I Like Old Clothes here at the Poetry Foundation website.