September 16, 2014
Author Interviews at Pickle Me This: Rachel Wyatt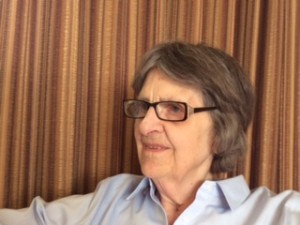 Rachel Wyatt is a prolific and award-winning author of novels, short fiction, stage and radio plays and non-fiction works. Her six novels include The Rosedale Hoax, Foreign Bodies, and Time's Reach. A half-dozen professional productions have been mounted of her full-length stage plays, including Crackpot and For Love or Money. She has also had over 100 plays produced by CBC and BBC radio, and monologues and scenes from her works have been included in many anthologies, most recently in the Oxford Book of Stories by Canadian Women.

Rachel Wyatt immigrated to Canada with her family in 1957.  She was Director of the Writing Program at the Banff Centre for the Arts during the 1990s and has appeared at writer's conferences across Canada and internationally. She has won the CBC Literary Competition Drama Award and was Awarded the Order of Canada in 2002 and the Queen's Jubilee Medal in 2003.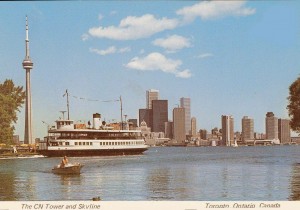 Kerry Clare: I discovered your work through Amy Lavender Harris's Imagining Toronto, in which she wrote about The Rosedale Hoax, which is nearly 40 years old. I read The Rosedale Hoax and was impressed at how contemporary in tone it was, a wonderful depiction of Toronto and its classes and masses. It's a very funny book.
Rachel Wyatt: After all this time! The book began life with a fanfare. Anansi spent its entire advertising budget on large posters in the Toronto Subway. Then a woman reviewer wrote a really nasty, almost personal, piece about it in the Globe, and that more or less killed the novel at birth. At least a woman who was a realtor in Rosedale used to buy a few copies every year for a competition she ran in the area. I'm delighted that you and Amy Lavender Harris have taken notice of it.
Kerry: What was it like to be writing about Toronto in 1977? How was your vision of the city different from how you'd seen it presented in literature before?
Rachel: Writing, thinking, about Toronto in 1977. Well, my own first impressions in 1957 were reflected in what was being written at that time. It was dull, cold, narrowly Protestant. Strict laughable rules about buying liquor from the store or in bars were enforced. "Men Only" signs here and there. Ladies Entrances in the pubs. By 1977 much of this had changed and I saw the more casual approach to life, as if some tight hold on the city was beginning to relax its grip. And by 1993, it was/is to me the great city I hated to leave.
Kerry: Since then I've read your two most recent novels (Suspicion and Letters to Omar) and their narrative approach was so similar to The Rosedale Hoax. I don't mean to imply that you've not grown as a writer in this time, but instead to suggest that your style has long been well-defined. It's also singular—I can't think of what I'd compare it to. Do you think you think you were ahead of your time? Or apart from time? How have your preoccupations changed from then to now?
Rachel Wyatt: I'll answer the last part of your question first as it's the easiest. If my preoccupations have changed, they have perhaps grown wider in the sense of considering the whole world—depressing as that is. In my first years in Canada (we arrived [from England] in 1957) I was looking around at this new place with wonder, delight and occasional puzzlement, and using what I saw and heard.
Yes, I have been perceived as ahead of my time and that, when it comes to selling one's work, is not helpful.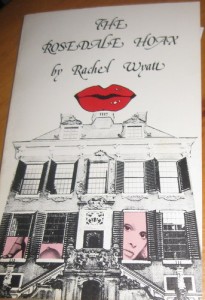 I'm not used to considering my own style, narrative habits, structure and so it's a bit of a mystery to me. I'm only the writer. My editor has said my writing style comes out of the Brit tragi-comedy of manners. Some of my stage plays have been described in that way too. I think it's a habit of looking at the world a little sideways on, if that makes sense. And that won't have changed over time and certainly won't now.
"I think it's a habit of looking at the world a little sideways on…"
As for the way I tell a story, it's a matter, perhaps, of beginning in the middle. I'll keep thinking about it but if I think too much, I might stop writing.
Kerry: You do begin in the middle—in Letters to Omar this is particularly apparent. This approach much be disconcerting for readers who are used to being led through novels with their hands held. You have faith in your readers though to find their way, to figure it out (and I did! It's all there). Or are you thinking of the readers at all? What makes the middle so compelling? Isn't it easier to start at the start?
Rachel: Like most writers, I say that I tend not to think of potential readers while I'm writing. But just as I like to be treated as an intelligent person when I read or watch plays, so I assume readers and audiences of my work to be intelligent too. It makes me feel good to grasp something in a novel that isn't obvious at first, or to get the 'aha' moment in a play. It's part of the pleasure.
Also, starting in the middle makes the "unfolding" or revealing more fun. I keep seeing "reveal" used as a noun now. I don't like it but I can see its uses.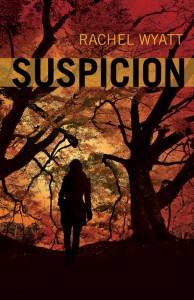 Kerry: Your latest novel, Suspicion, puts its "reveal" right at the start though, and it's the rest of the characters in the novel who have to wait to find out the truth about what happened to Candace Wilson. (I loved this book! It's on my Canadian Gone Girl list). What was the attraction of turning the structure of the suspense novel inside out?
Rachel: Suspicion is about suspicion. Have you read Chekhov's "In the Ravine"? It's about gossip and how it affects lives. I wanted to show how this event, Candace's disappearance, changed the town and the people. Whispers, rumours, "false witness" even, spread around. And when it was all over, Jack, for instance, would always know he'd been suspected of murder and even after she'd been found, of a failed attempt.
I'm very pleased that you loved it and that it's on your Next-Gone-Girl list. Perhaps someone will make a movie of it. A big perhaps!
Kerry: Oh, the Chekhov reference is helpful here. Your work is such a fascinating puzzle, and this goes a step toward decoding it. Who are your other literary influences? And (which might the same question, or maybe not), what authors and books are most beloved to you?
Rachel: This is a big question. I look at my bookshelves and love all the writers and all their books. Influence is the hard question. I suppose writers take from just about everything they read. When Tennessee Williams was asked which three writers had influenced him most, he said, "Chekhov, Chekhov and Chekhov."
Virginia Woolf is a favourite, The Waves in particular. Conrad, Henry James, the ancients—The Aeneid, The Odyssey. The Brit humourists, Evelyn Waugh, P G Wodehouse and now Ian MacEwen, Martin Amis. Canadians: Mavis Gallant who was also a dear friend, unparallelled Alistair MacLeod, and of course Alice. Recently, The Sisters Brothers by Patrick de Witt and Lee Henderson's The Man Game. In the early seventies, I was given a copy of Adele Wiseman's Crackpot. When I'd read it, I wanted to jump up and shout, "This is the great Canadian novel". We became friends and after she died, the CBC commissioned me to adapt Crackpot for radio, which I did. Subsequently, I adapted it for the stage and it's had productions from coast to coast.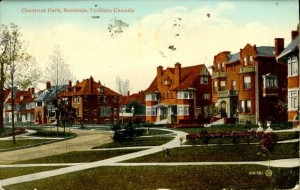 But this is becoming a biography in books. I've loved the classic Russians and the French. Jose Saramago's books are amazing, Roberto Bolano. . . .
At the moment, I'm reading a dark Japanese mystery by Fuminori Makinara and re-reading after decades Ford Madox Ford's The Good Soldier. I've just finished Margaret MacMillan's The War that Ended Peace. A brilliant book but disturbing because it's all happening again.
I won't start on poetry and plays but I get great pleasure from reading those too.
You shouldn't have got me started! Influence? I don't know. But I think my use of language was helped along by going to church with Grandma and hearing the words of the King James Bible. I also eavesdrop all the time.
"I think my use of language was helped along by going to church with Grandma and hearing the words of the King James Bible. I also eavesdrop all the time."
Kerry: No surprise that you're an eavesdropper. You have such an ear for dialogue—I loved:
"What is stupid," Mike went on, "is to go about having illusions about people you never knew in the first place."
"You're not likely to have illusions about someone you know," Dorothy said. "Once you get to know them."
Where so many authors would use exposition, you tell the story obliquely through characters' conversations. Is this where your background as a playwright informs your fiction writing? And what do you love about the way people talk?
Rachel: There is poetry in the things people say and the things they don't say. We speak often in shorthand because friends and family know what we mean to say and will cut in. A short phrase can carry a great deal of weight. Some of my short stories are, in effect, little plays. In writing for radio, everything including the scenery must be in the dialogue but not obviously. Timothy West, the actor, wrote a fine parody of a radio play entitled, "This gun that I have in my right hand is loaded." A simple "Don't shoot" from the other person would imply a gun—unless they're out in the woods with bows and arrows. And so on.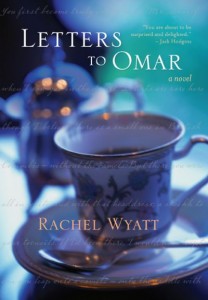 Kerry: The dialogue in Letters to Omar is fascinating in that it's not actually dialogue—there is so little listening involved in how the characters respond to one another, which results in misunderstandings. But it's also the way that old friends speak—they know each other so well they feel themselves beyond having to listening. Their conversations are a glorious mess. Your depiction of a lifelong friendship between three women is one of my favourite parts of this book—you show how it informs their lives (and someone else remarks, I think, that it has kept them from maturing, that they're forever stuck in a time warp of girlhood when they're together). Women's friendship is still rare in literature, though common in the world, I think. What was interesting about it for you to approach as a novelist?
Rachel: I'm an opera fan and had been thinking about the fine duets between male friends as in The Pearl Fishers, or between Orestes and Pylades who are prepared to die for each other in Iphigeneia in Tauris. Then there are Achilles and Patroclus—I don't think anyone's written an opera about them. And Sidney Carton who does the "far, far better thing" and goes off to the scaffold in his friend's place.
I can't think of anything like that between women in opera or literature. I think I mentioned that I was reading Middlemarch. Dorothea, in that small enclosed society, doesn't have a single true female friend. And her sister isn't much help. Emma in Emma bestows her "friendship" on poor Harriet whom she wants to improve, with disastrous results. Elizabeth and Jane Bennet are an example of sisters who are also "best" friends.
I think friendship between women is an unseen thing, unheard and, clearly, unsung. We know who our "best" friends are. They're the very few we trust with our secrets, who will come to our aid in time of need and so on, and for whom we do the same.
"I think friendship between women is an unseen thing, unheard and, clearly, unsung."
Kate and Elsie and Dorothy have made a kind of web for themselves, a sort of safety net, I suppose. They will be all right as long as they jog along together, holding each other up in a crazy way. Some days they'll dislike each other but they'll defend each other against everyone else. Kate's husband for instance is a villain to them all. I think it was that kind of carry-over from their college days that I liked. All of them sharing a "room" forever.
Kerry: And I've heard the good news that you'll have a new short story collection published by Coteau Books in the spring. Congratulations! What can you tell us about it?
Rachel: Street Symphony will indeed be published in spring—if we can get it together in time. I'm a café addict as I may have mentioned. Six mornings a week I can be found at Café Misto down the road when it opens at 7am. I have coffee and a muffin and read the papers and talk to other regulars. Then I walk home again and talk to the people on this very short street who are setting off to work or getting the kids off to school. So some of the stories reflect all that. Who are these people who turn up for coffee so early? Why are they there? I invented new café denizens for my tales.
Another story began from seeing a grubby-looking aquarium in another café.  And so on. I've written about the lives of people around town as I think they might be. And I hope people enjoy reading the stories—and buy the book.